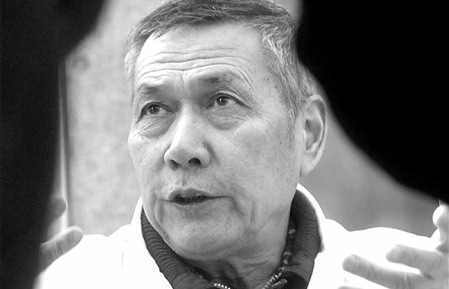 Ten years after he first exposed China's "AIDS villages", Dr Gui Xi'en, 72, continues to visit rural communities in Henan, offering treatment and counseling to those affected. [Hu Weiming] 
A noisy cab speeds along a dark country road on a muggy Friday night in July. Dr Gui Xi'en, 72, sits on the cramped back seat with a satchel on his shoulder and suitcase on his lap.
He is on his way to Shangcai, an AIDS-ravaged county in central China's Henan province.
As the cab approaches the county seat, Gui directs it to a small hotel. He plans to stay the night and quietly visit the villages the next day.
Ten years after he first exposed their deadly secret in 1999, Gui who blew the whistle on China's "AIDS villages" is still sneaking into rural communities in Shangcai, offering counseling to those dying from the epidemic.
"I came secretly before, because they (local officials) were not nice to me. I still come secretly now, because they are too nice to me," says Gui.
"If they know I am here, they will come see me and invite me for lunch or dinner. I think that is unnecessary and I don't like it."
From being driven out of the villages to being treated as an "important guest", Gui's experiences reflect China's changing official attitude toward the HIV/AIDS plague, believed to be the most serious public health problem confronting new China since 1949.
An infectious diseases specialist with Zhongnan Hospital at Wuhan University in neighboring Hubei province, Gui first visited Wenlou, a village of Shangcai in July 1999 as a favor to a fellow doctor there.
HIV/AIDS was the last thing he expected to find. Some villagers suffered from constant fever and diarrhea. People died every month, with their bodies covered in sores and dark, wine-colored blotches. Panic had seized the village.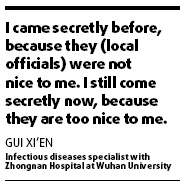 Gui took 11 blood samples from the villagers, and found 10 to be HIV positive. He immediately informed the local health authorities and urged them to take action. But their response was to refuse him further entry to the villages.
Two months later, during a long-weekend holiday when he calculated that officials would let their guard down, he sneaked back into Wenlou with three students. After three days of house calls, Gui returned to Wuhan with 159 blood samples. The result was shocking - 90 of them were HIV positive.
Gui realized that he had stumbled on a full-blown AIDS epidemic, something he had only read about in medical journals.
Related readings:


 China closed to AIDS patients


 AIDS and rural laborers


 Size matters when it comes to AIDS defense


 Full results show AIDS vaccine is of modest help


 AIDS vaccine protects people, shocks researchers


 Expert: HIV/AIDS epidemic still on rise in China
The origins of the tragedy went back to an unchecked blood selling and collecting industry that flourished in the early 1990s.
Armed with detailed data and analysis, Gui wrote a letter to Beijing. With the central government involved, the local authorities could no longer hide the lethal infection. But they looked on Gui even more unfavorably.
On June 8, 2001, Gui went to Wenlou alone. He took medicines for the villagers. The county government sent police to expel him. Gui escaped with the help of villagers, who hid him from the police, and moved him to a safer place by motorcycle in the middle of the night.
The mild-mannered doctor then wrote to the county authorities in an uncharacteristically strong tone: "One day the tragedy will be written into history and those responsible will be condemned by history."
Today, the health clinics Gui visits in the AIDS villages provide free HIV testing and antiretroviral treatments, and charity homes shelter AIDS orphans and the elderly, whose caretakers have died of AIDS.
Nationwide, the government has been providing free antiretroviral treatments to rural HIV/AIDS patients since 2004, and to urban sufferers facing financial difficulties. The government has also provided free HIV screening, free therapy to block mother-to-infant transmission, free infant HIV testing and financial assistance for children who have lost their parents to the epidemic.
This summer, Premier Wen Jiabao visited Gui at his home, and thanked him for his efforts in checking the epidemic. In 2007 and again in 2008, Wen invited Gui to join him on visits to HIV/AIDS villages and AIDS orphans.
The Chinese media hailed Gui as a medical hero, but Gui is far more comfortable talking about the villagers than about his role in revealing the epidemic. He says, "I just did what a doctor should do."