Lu Chunming saw first-hand how the nation's efforts have helped Africa in the battle against malaria.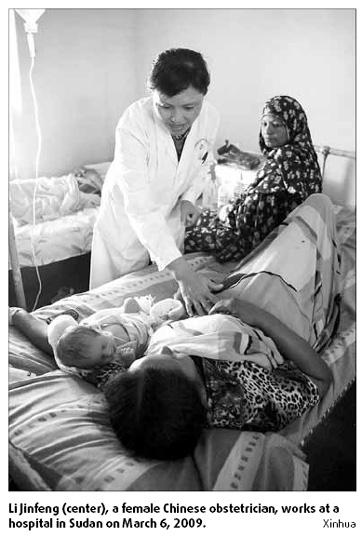 The general manager for Holley Cotec, a Chinese pharmaceutical group said he saw countless women throughout the continent suffer miscarriages because of the disease. But one unnamed woman, about a decade ago, managed to give birth to a baby girl with the help of anti-malaria drugs from China.
As is the custom to name children based on major events at their birth, she named the baby "Cotecxin", after the Chinese drug.
As China announces its infusion of aid to Africa, Chinese pharmaceuticals as well as officials from both sides are singing praise for the country's longtime help in the continent's battle against malaria.
"When you look at the impact of our anti-malaria drug, it can be considered part of China's pride," said Lu, 41, who began work for the group in 1993.
Beijing recently announced that all eight promises it made at a summit with Africa in 2006 will be fully delivered by the year end. The three-year plan ranges from doubling aid to Africa to erasing debts owed by the poorest African countries.
Premier Wen Jiabao said during his visit to Egypt over the weekend that any contribution by Chinese groups or businesses toward improving lives on the African continent must go beyond mere aid.
Related readings:


 Wen's speech at 4th Ministerial Conference of Forum on China-Africa Co-op (full text)


 Wen: China-Africa cooperation in new chapter


 China to raise Africa aid despite financial crisis


 Wen urges increased int'l efforts to support Africa

"I hope all our enterprises in Africa can selflessly cultivate the local staff. That is what we have always advocated - teaching others to fish is better than giving them fish," Wen told Chinese employees at a major training center owned by Chinese telecom giant Huawei.
Lu said his company's drugs have been used in around 30 countries on the African continent for the past two decades.
He said about 30 million doses have since been supplied to the continent to help fight malaria, an affliction that can hit children five times a year or adults three times annually, possibly leaving victims dead in a few days if untreated.
From 1995 to 1996, Lu visited about 2,000 healthcare professionals in Kenya to tell them about Cotecxin and the help it could provide to expectant mothers.
"You could see the immediate rewards from saving lives by working on the ground and it was amazing what a simple treatment like that could do," Lu said.
Akwasi Agyeman Agyare, minister of the Ghanaian Embassy in Beijing, told China Daily earlier this month that he also saw the benefits of Chinese doctors on the ground in his country.
"At present there are many Chinese doctors in Accra, the capital of Ghana, helping citizens treat malaria. The Chinese government has put up hospitals that can provide aid to hundreds of patients," he said.
According to the minister, China has helped "a lot of others in Ghana, in the fields of education, infrastructure and agriculture".
"I've heard of Western reports that China is helping Africa for its own interests," he said. "This is unbelievable. We have seen it in Africa. What we have seen is that we have good support from China. Chinese companies in Africa have social responsibility, they treat the citizens very well."
Holley Cotec has trained more than 5,000 people, mainly from Africa and the Middle East, in the past five years. According to the group, some of the trainees even have been promoted to the ministerial level in their country.
"We'll be more than happy if Chinese companies can contribute their humble share to the well-being of the African people," Wen said.
Lu said his company - whose trade volume is now up to 300 million yuan ($44 million) a year in Africa - was working on building at least three pharmaceutical factories on the continent. The facilities would help locals with building capacity and would help at least 500 million people eventually, he said.
"We are striving for comprehensive aid and sustainable contributions. In the long run, this will also help Chinese enterprises involved in Africa to develop through greater cooperation," Lu said.