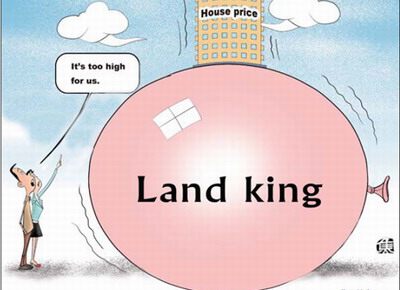 When China announced its massive stimulus plan, the package was aimed at putting the economy back on a long-term growth trajectory - not stoking another property boom.
But fears are growing that the 4-trillion-yuan ($586 billion) financial boost is being siphoned to inflate an unsustainable property bubble.
For many potential homebuyers, house prices were already too high when the package was launched in November last year. Yet the gap between salaries and house prices could widen even further if the record sums now being spent at land auctions are any indicator.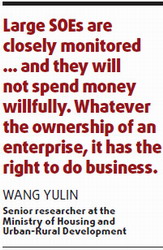 Across the country, property plots known as di wang, or "land kings", are fetching unprecedented amounts in bouts of frenzied bidding.
What has surprised many seasoned analysts, though, is that most of the bidding is being done by State-owned enterprises (SOEs), which have access to vast amounts of cheap financing thanks to the stimulus package.
Of the 10 most expensive land purchases in China's major cities this year, six were made by SOEs.
Last month, Poly Real Estate Group Co Ltd, a leading Chinese property developer and subsidiary of State-owned conglomerate Poly Group, paid 1.79 billion yuan - almost 7,000 yuan per sq m - for a plot in Nanjing, capital of Jiangsu province, making it the city's most expensive piece of land for commercial development.
Related readings:

 Check zooming property prices


 China probably not to extend favorable measures in property sector


 China's property climate index up for sixth straight month


 Home sales registrations fall 24%


 Home rates going through the roof, say city dwellers
China Overseas Land and Investment, a development firm listed on the Hong Kong Stock Exchange and a subsidiary of State-owned China State Construction Engineering Corp, in September purchased land in Putuo district of downtown Shanghai for 7 billion yuan, more than 22,000 yuan per sq m. Part of the plot attracted no bidders when it was put up for sale at 1.6 billion yuan in July last year.
The deals are causing consternation among Chinese government officials, including Li Rongrong, chairman of the State-owned Assets Supervision and Administration Commission, who said recently that SOEs should focus more on core activities.
Despite concerns over the stimulus money, however, the situation has presented the bosses at SOEs with a dilemma as the quick returns on property ensure enterprises meet the government-set performance targets.
"Because of the speed in which property can be developed in China, SOEs can get a return from real estate development in just one year. Returns from investments in research and development or a new manufacturing process take much longer," said Bing Zhang, of Shanghai-based management consultants A.T. Kearney.
However, Pan Shiyi, chairman of Soho, a major non-State commercial developer, said the behavior at land auctions of some State-owned bidders defies logic.
One of his company's competitors, Franshion Properties, a wholly owned subsidiary of State-owned Sinochem, successfully bid 4.06 billion yuan for land in Beijing in June.
"It was far higher than what other bidders were offering," said Pan. "Most SOEs have easy access to bank loans, and many are turning to real estate because they are reluctant to invest in manufacturing while there is still a problem of over-supply after the downturn."
Many people operating in the property sector are worried that SOEs have had the major share of