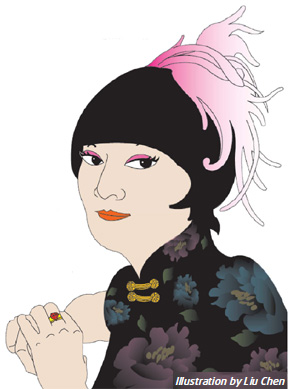 "Am I beautiful? Am I beautiful, Dad?" Mei Mei asks, partly in jest, but with a great degree of earnestness, as she pours over photo albums of her in her finest drag ensembles at her parents' home in Dandong.
"It's okay," he admits and chuckles softly, as does most of the audience watching this documentary at The Boat on Liangmahelu, Oct 17.
"But I wonder," he asks. "How can the person in the photos be my son?"
Looking at Mei Mei, Li Dong, seated directly across from me during the screening of this documentary film made about her life, it hits me how hard it is to believe she is anyone's son.
Mei Mei is a true drag queen; she hasn't had sex-reassignment surgery and doesn't plan to.
Her height is accentuated by four-inch black high-heels, and her slender frame made more dramatic by the cut of a tight-fitting qipa dress.
Her hair is auburn and cut into a short bob (a wig). She squirms and giggles at this on-screen interaction, her hand cupped coquettishly over her mouth.
Meeting her afterwards for an interview, her countenance is both friendly and demure. Mei Mei smiles easily, but her eyes betray a life with its share of hardship, as one would only expect for a 39-year-old Chinese drag queen.
But the potency of glamour relies not only upon beauty so much as the tragedy beneath the surface and that is what captivates you, both onscreen and off.
Gao Tian, an amateur director at the Beijing Film Academy at the time, shot the documentary in 2004. Its creation can perhaps be attributed to fate.
The two met at a bar in 2002, after he and his girlfriend saw Mei Mei's performance and the young director approached her with the proposal of making a documentary film about her life. Mei Mei agreed, but misplaced the business card, only to stumble upon it two years later. She placed the call to find out whether he was still interested in pursuing the project. He was, only this time he had experienced his owns sexual discovery- he was gay.
As a young boy growing up in Dandong, Mei Mei tells us she always preferred doing the things little girls liked to do, like skipping rope. It was at the age of 15 that she first began experimenting with wearing women's clothing.
Mei Mei first got her start singing at clubs, but as a man. "When I realized that guys who performed in drag made much more money, I quit my job and started performing in night clubs as a woman. They paid 50 yuan a show and I could go throw five to six shows per night. So I could make around 300 yuan every night, which is what I earned in one month as a cook."
In 1994, Mei Mei got her big break when the owner of Beijing's Chang'an Theater came to Dandong scouting for men who could perform as women.
"There were a few guys competing for the position," Mei Mei told METRO.
"I won eventually," she added. "I wasn't planning to stay in Beijing for a long time. One night I realized there was a huge gay community and I decided to make my life here."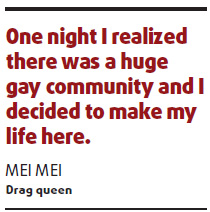 At the heart of the film, however, is Mei Mei's decision to change her lifestyle and follow her "husband" (they had a ceremony not officially recognized by China) to Shanghai, leaving behind a ten-year legacy as drag performer in Beijing.
She was back in Beijing in only one month, broken-hearted and with no money.
Mei Mei's story is a new one for China, and the film profoundly captures the changes that accompany the rapid pace of the outside world entering a once closed-off society.
While such an event presents opportunities for the expression of sexual and gender identity that were inconceivable even a generation prior, acceptance does not happen overnight.
But with a little makeup and moxie, it may not be long.
But all stories must have an ending. Along with the evolving world, METRO heard recently that Mei Mei has also changed a little.
She now runs a drag queen boutique that provides curious minds with a chance to dress up and train as a drag queen.
Zhao Yanrong contributed to the story