Mourners braved the first winter snow in Beijing Sunday to pay tribute to China's "father of space technology", Qian Xuesen, who died on Saturday. He was 98.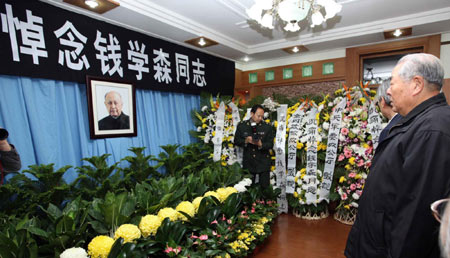 People pay tribute to Qian Xuesen, father of China's space program, at his forner Beijing residence on Sunday. [Xinhua]
They gathered at the quiet courtyard in the capital's western part where the famed aeronautical engineer lived with his family since 1955.
"His 99th birthday was only more than a month away, and we had thought of sending him greeting cards," said Sun Jiadong, chief designer of China's lunar probe project, as he carried a bunch of white chrysanthemum.
Millions also expressed their grief online, with some calling his death the "falling of a superstar".
"Qian has made great contributions to China, and he should be long remembered by all Chinese people," said a netizen named Li Yaoming.
For most Chinese, Qian's life story is an inspiration.
Born in 1911 in the final weeks of China's imperial history, Qian graduated from Shanghai Jiaotong University in 1934 and won a scholarship to study aeronautical engineering at the Massachusetts Institute of Technology (MIT) in the United States.
He then moved to the California Institute of Technology and became a star pupil of Theodore von Karman, the Hungarian-American director of its Guggenheim Aeronautical Laboratory.
He received a doctorate in aviation and mathematics in 1939 and, by 1947, was a professor at MIT and one of the most eminent rocket scientists in the US.
"At 36, he was an undisputed genius whose work was an enormous impetus to advances in high-speed aerodynamics and jet propulsion," Von Karman wrote about his student.
Journey home
According to his son Qian Yonggang, the Chinese scientist was once invited to return home by the Kuomintang but refused. He moved back to the mainland after New China was founded in 1949.
But his return was not smooth. With anti-communist feeling at its peak in the US in the 1950s, Qian was arrested on dubious charges, imprisoned for 15 days and put under house arrest for a further five years.
In June 1955, a letter from Qian reached then-premier Zhou Enlai, resulting in Sino-US talks to secure his return to the mainland.
In January last year, US journal Aviation Week and Space Technology named Qian its 2007 Person of the Year "because he, more than anyone, is credited with the leading role in creating the scientific and industrial complex that's now reaching these heights of achievement".
Qian returned to his work in 1956. At the time, rocket propulsion was still little known in China and he later wrote: "The pressing problem was to teach, not immediately do independent research."
That year, he wrote an influential essay which led to the establishment of the Commission of Aeronautical Industry to supervise scientific research into guided missiles and aeronautics. It was chaired by the famous marshal Nie Rongzhen.
Qian's research helped lead to the successful explosion of China's first atomic bomb in October 1964.
Late US author Iris Chang, whose 1995 biography Thread of the Silkworm remains a leading source of information on Qian, wrote: "It was he who initiated and oversaw programs to develop some of China's earliest missiles, the first Chinese satellite, missile tracking and control telemetry systems.
"And it was he who helped turn systems engineering into a science in China, by working out a management structure that would facilitate communication between tiers of experts with a minimum of confusion and bureaucracy."
Led by Qian, China has moved from copying a Soviet missile based on a German bomb from World War II to building progressively larger domestic designs, including the Dongfeng 4 ballistic missile, which put the first Chinese satellite into orbit in 1970.
In 2007, China launched its first spacecraft, Chang'e 1, into lunar orbit using a Long March 3A rocket, a development of the Dongfeng 5, for which research began as early as 1965.
"He's the father of China's space industry," Luan Enjie, head of the nation's lunar program, said. "It's difficult to say where we would be without him."
Great man
A legendary figure, Qian is remembered by his children as a "strict and loving father" and by his neighbors as an "amiable grandpa".
Qian Yonggang said his father was a "person who never lost his temper, drank or smoked".
In later life, the scientist spent most of his time at home listening to the radio or reading newspapers. "But he never watched television," said his son.
He would clip information he found useful and had filled more than 600 cases with clippings by the end of last year, said Tu Yuanji, Qian's secretary and academic assistant.
"The problem that most concerned him in his later life was that China is in great need of leading scientific personnel," Tu added.
Premier Wen Jiabao visited the engineer at his home in July 2005 and August this year to discuss how to foster leading scientists. Qian reportedly told Wen that science and art, if combined properly, would help Chinese to be innovative and more competitive. He cited himself as one example.
Ever since his childhood, Qian had been reciting traditional Chinese poems and practicing Chinese calligraphy and painting. His soprano wife Jiang Ying, who he knew from childhood and married in 1947, also told the media her husband was a fan of Beethoven.
In 1991, when Qian was named the country's most distinguished scientist before his retirement, he attributed his success partly to his wife, who "by bringing me closer to music, has enriched my knowledge about the world".
At an award ceremony in April, 90-year-old Jiang said: "His lifelong pursuit is to do something useful for people. He is grateful he has got so much encouragement and support from the country."
Xinhua and AP contributed to the story