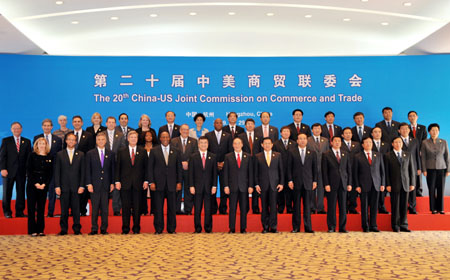 Delegates attending the 20th China-US Joint Commission on Commerce and Trade (JCCT) pose for a group photo in Hangzhou, capital of east China's Zhejiang Province, October 29, 2009. [Xinhua]
China, US pledge no new trade protection measures as Obama's visit in sight
HANGZHOU: China and the United States said Thursday they would not stage any new trade protection measures against each other, a significant step which lays the groundwork for the presidential summit next month.
"Both sides agreed on not introducing any new trade protection measures against each other as both vowed to oppose trade and investment protectionism and observe the related consensus of the G20 summit," Chinese Commerce Minister Chen Deming said later Thursday.
Chen made the remarks at the end of the 20th China-US Joint Commission on Commerce and Trade (JCCT) talks in China's eastern city of Hangzhou.
Related readings:

 US calls for balanced trade at meeting with China


 Protectionism has no room in free trade

 US tire duties 'serious trade protectionism'


 US protectionism risks trade war: trade expert


 China stresses need to fight protectionism
The comments also came at a time of increasing China-US trade disputes in the past months, involving Chinese tires, cement products, US poultry and others.
"The pledge is significant as it shows both countries' determination to dump punitive measures against each other and instead seek common prosperity," Niu Xinchun, a research fellow with China Contemporary International Studies Institute, told Xinhua.
"As influential powers, China and the United States should stand firmly against all types of trade protectionism, promote both countries' economies and help lift the world out of recession," Chinese Vice Premier Wang Qishan told the opening session of the JCCT Thursday noon.
Wang co-chaired the 20th JCCT talks with US Commerce Secretary Gary Locke and US Trade Representative Ron Kirk in a lakeside garden compound in the capital of east China's Zhejiang province.
Locke highlighted the significance of this year's talks, saying it is the first JCCT meeting of President Obama's administration and comes a few weeks ahead of President Obama's first visit to China.
Wang said President Obama's visit in mid November will "provide new opportunities for China-US cooperation."
"In a spirit of candor and understanding, hopefully both sides will discuss issues of mutual concern and achieve fruitful results at today's JCCT meeting," Wang said.
"It is critical that we make definite, concrete, demonstrable progress today to demonstrate that US and China can work together to achieve results from the JCCT," Locke said.
Later Thursday, the US commerce chief lauded the one-day JCCT talks as "successful," as both sides "made very significant progress on a number of issues."
Locke said China will drop a requirement that most of the components of wind power-related equipment be made in China.
"The United States agreed to delete some articles in its bill which limited China's poultry exports for six years," Chinese Minister of Agriculture Sun Zhengcai said in response to a Xinhua's question.
In return, China will resume imports of pork products from the A/H1N1 flu-hit areas in the United States, Sun said.