WUHAN: A grand memorial service was held Wednesday in central Hubei Province to honor three college students who died rescuing two children from the Yangtze River on October 24.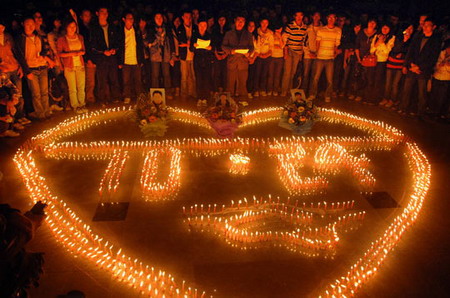 Students from Yangtze University in Jingzhou of central China's Hubei province kindle candles to mourn for the death of three students who sacrificed their lives to save two drowning children on Oct 27, 2009. [CFP]
Thousands of people holding chrysanthemum flowers went to the Jingzhou Memorial House to see off the teenagers, all 19-year-old students from the Yangtze University based in Jingzhou City.
The trio were Chen Jishi, He Dongxu and Fang Zhao.
State Councilor Liu Yandong, Hubei Provincial Party secretary Luo Qingquan and Provincial Governor Li Hongzhong sent their wreaths to the ceremony.
Related readings:


 Teenage ballet girl moves audience


 Hero helps to rescue foreigners' reputation


 China police rescue 23 trafficked children


 Police rescue forced surrogates
"The three heroes gave life to others and risked death themselves," said Zhang Zhongjia, Communist Party secretary of the Yangtze University. "They are the pride of their parents, elites of the nation and models of the time."
People touched by their selfless act had donated more than 500,000 yuan ($73,206) to their relatives as of Wednesday, Zhang said.
More than 10 students from the Yangtze University formed a ladder with one student holding another's arms to rescue the two boys in the river on the afternoon of October 24.
One of the students lost his grip on his classmates and all of them were in danger. Several members of a winter swimming team nearby came to help. Chen Jishi, He Dongxu and Fang Zhao were swept away in the torrent, but others were saved.
Millions of Internet users made online comments on major news portals to show their grief.
"I am also a college student. I feel sorrow for you," said "Liu Zhuoya," from northwestern Xi'an City.
However, some questioned the sacrifice.
"Sacrifice three and rescue two, is that worthwhile?" asked "Tiaozhantianya" on the forum of www.163.com. "Rescue can not be blind as they could not swim."
"Besides economic values, society has moral and social values. Morality is above self-interest," said Li Jiahua, deputy head of the China Youth University of Political Sciences.
"It was a heroic deed," he said.