NANCHANG: Drought continued in central and southern Chinese provinces this week, with dozens of ships stranded in shallow rivers and crop harvests almost halved.
Authorities in Jiangxi Province had to demand more water from reservoirs on the upper reaches of the Ganjiang River, hoping to end a two-month standstill in water traffic.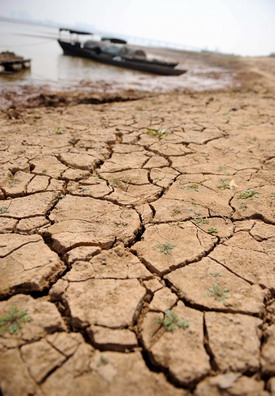 A fishing boat is stranded in Ganjiang River in Nanchang, captial of east China's Jiangxi province October 17, 2009. [Xinhua]
About 1,500 cubic meters of the reservoir water per second was diverted into the river for 12 straight hours starting 1:00 p.m. Monday, said a spokesman with the Jiangxi provincial headquarters for flood prevention and drought relief. "We hope this will help clear the traffic bottleneck."
A lack of rain since August has reduced water levels in the Ganjiang River to a record low, and more than 40 cargo ships have been stranded in its middle and lower reaches, the spokesman said.
He said the ships -- some of which had been stranded for more than two months -- carried more than 10,000 tonnes of cargo in total.
The local weather bureau said Jiangxi received only 104 millimeters of rain from mid August to mid October, about 48 percent of the normal volume.
As a result, less than 200 cubic meters of water per second was sluiced daily from Wan'an Reservoir, the biggest reservoir on the river's upper reaches, over the past three weeks, far from enough to keep water traffic on the move.
The Ganjiang is a major tributary of the Yangtze River, China's longest waterway, and a pivotal path for water traffic in eastern China.
From Monday night, more water was diverted from the Yangtze Three Gorges Dam, China's mammoth water conservation facility, to help ease the effects of the drought.
Related readings:


 Lingering drought hits S China provinces


 Drought leaves 250 ships stranded in south China


 Drought hits South China's Guangdong


 Drought worsening water shortages in Chongqing


 Premier urges to combat drought
Water from Gezhouba, one of the pivotal dams, increased to 79,200 cubic meters per second at 8 a.m. Tuesday, more than 10 times Monday's volume.
The Yangtze itself is also suffering the impact of the drought, with water inflow into its upper reaches measuring 11,700 cubic meters per second, the lowest level in 10 months, officials with China Three Gorges Corporation said.
Sustained drought has brought water levels to a record low in four of the five major rivers in Jiangxi Province, and in the Poyang Lake, China's largest freshwater lake.
In the central Hunan Province, low water levels in Dongting Lake, China's second largest freshwater lake, forced fishermen to stop fishing in early October, normally the best time for fishing.
Meanwhile, sustained drought along the Xiangjiang River has caused a severe shortage of drinking water for more than 3 million people in the cities of Changsha, Zhuzhou and Xiangtan.
As of Monday, a stretch of at least 5 kilometers of dry riverbed on the Xiangjiang River was dotted with stranded vessels. In Changsha, the provincial capital, people even planted vegetables in the riverbed.
In the southern province of Guangdong, rainfall has decreased by more than 20 percent from the average, threatening to halve crop harvests.
"It's the worst drought in 40 years," said Chen Sanmei, a villager in Conghua City. Chen and her family worked into the night Monday to harvest grain and peanuts. At least half of the peanut shells they harvested were empty. "But we take whatever we can get, otherwise they'll all die in the fields."
The small river Chen's village relies on for irrigation has run dry.
In Quanzhou, a city in Fujian Province on the southeastern coast, drought threatens to damage 16,600 hectares of cropland and leave 14,500 people thirsty, the local flood prevention and drought relief office said.
Six of the city's 18 major reservoirs have dried up and water storage in the other 12 is half the normal volume.
The central meteorological bureau has predicted drizzle to moderate rain in parts of Jiangxi and Guangdong provinces in the next three days, which could help relieve the drought.