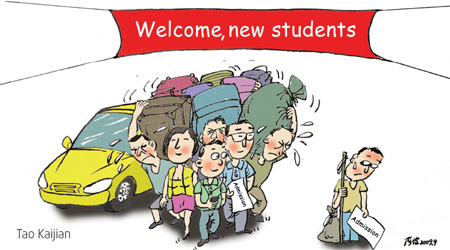 Armed with maps and guidebooks, hordes of Chinese families set off across the nation this summer -- but some had a hidden agenda to their holidays.
The destinations for many middle-aged parents were residential areas around universities, and sights included more real estate agents' offices than places of cultural interest.
"We get many parents from other cities and provinces during the summer vocation. Most of them came to buy houses for their children who are studying at the college here," said Wang Shang, an agent with the Century 21, a real estate agency in Qingdao, Shandong province.
The increase in nouveaux riches snapping up property near universities is just one factor that has made college campuses the clearest example of the widening wealth gap in modern China.
But experts claim the obvious division between rich and poor students could be harming the confidence and education of those from rural or impoverished families.
Soaring house prices in many cities mean it is almost impossible for young people to buy a home without the help of their family, and usually only if their parents have a large income.
Related readings:


 How wide is the income gap today?


 Urban-rural gap needs to be bridged


 Salary gap widening


 Public concern over jobs, pay gap


 Wealth gap rises, but no risk of upheaval: Report


 To be poor or rich, not a question for college entrance
Wang said he sold a 178-sq-m house in a good community at a cost of 2.8 million yuan ($410,000) to the parents of Li Shu, a second-year student at the China Marine University in Qingdao. "Most of his new neighbors are business leaders from outside of the city," he added.
In the capital Beijing, almost 5 percent of all house transactions in 2007 involved "student buyers". Today, it is more than 10 percent, with many purchases being paid for in a lump sum, according to Beijing-based realty firms Zhongda Hengji and Zhujia.
Despite vast and continuing improvements of living conditions offered in university dormitories, they still do not meet the expectations of the rich.
A female student at a university in Wuhan, Hubei province, reportedly arrived on her first day with 19 pieces of luggage, enough to fill a four-person dorm and setting a new school record, according to the city's Changjiang Times.
The student's mother is said to have become agitated when her daughter was not given a "private room" and then furious when teachers said it would be impossible to install a private washroom in the dorm, the newspaper reported.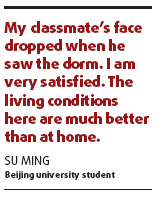 At the other end of the spectrum is Su Ming, who comes from a family of farmers and studies at a university in Beijing. He recalled how he arrived in the capital with just a plastic bag and an old school satchel.
"The classmate who has the bunk above mine in my dormitory was brought to school in a Cadillac. When he saw the room for the first time his face dropped. He complained it was too small and the air conditioner was too small," said Su. "But I am very satisfied with the room. The living conditions here are much better than the situation at home with my family."
The wealth gap on campus is not just evident when it comes to accommodation. Branded clothing, high-tech cell phones and entertainment gadgets, and cars continue to be all the rage among young people, highlighting the divisions between the haves and have-nots.
The widening gap between 900 million farmers and 400 million urban residents is being mirrored among China's 13 million-plus students, say cultural experts. They also believe students from wealthy backgrounds now enjoy the kinds of luxury some citizens would struggle to attain after decades of work.
"I won a scholarship to the University of International Business and Economics in Beijing but I still have to do part-time jobs in the college library to pay my living expenses," said 20-year-old Zhang Hefei, a second-year student in Spanish from Hebei province.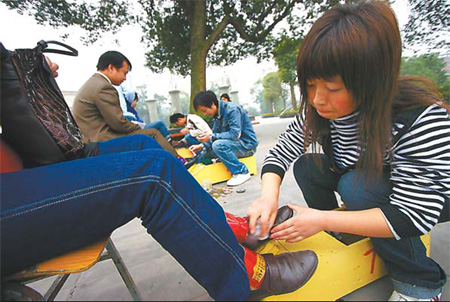 A student in Chongqing shines shoes after class to earn extra money for her schooling. Many young people find part-time jobs while studying at college. [Photo by Chen Shichuan/China Daily]
Su Wenping, a professor in sociology at the Beijing University of Aeronautics and Astronautics, said campuses' high density means the growing rich-poor disparity in China could be witnessed "at close range".
"It is visible in the classrooms, in the dormitories, or even between students sharing the same desk. This on-campus wealth gap can only negatively impact the values, activities and mental states of students, particularly poor ones," she said.
"Some poor students even suffer depression and, if they do not get help from teachers or psychologists, the long-term effects could hamper the development of healthy personalities."