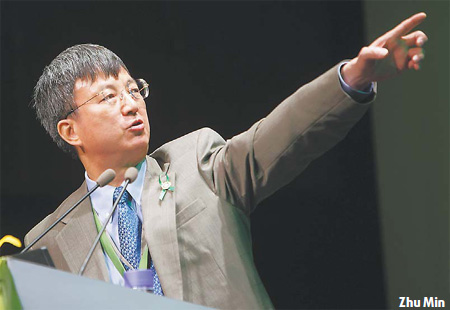 Bank of China Vice-President Zhu Min may soon take up a senior position at the nation's central bank, in a move that will eventually prepare him for a crucial post at the International Monetary Fund (IMF), people with knowledge of the matter said.
Though Zhu personally denied knowledge of his appointment as the vice-president of the nation's top monetary authority - the People's Bank of China - the source confirmed that the central bank had been officially informed about Zhu's new position.
The 56-year-old Zhu, a senior banker with ample international experience, might just become the second person after Justin Lin, the current World Bank chief economist, to play a key role at an international financial institution.
If it happens, his elevation as the deputy managing director at the IMF is expected to help China have a bigger say in the process of reshaping the post-crisis global financial order.
Related readings:


 China's proactive fiscal policy to continue


 China urges quicker reform by IMF, WB


 China urges IMF quota share adjustments


 China urges rich countries to share


 China wants moves on IMF voting at G20: officials
Conventionally, officials recommended by the Chinese government to the IMF should first take up a transitional position at the central bank, while the ones suggested for a role at the World Bank usually assume a post at the Ministry of Finance at first, the source, who declined to be named, told China Daily.
The likely appointment comes as China, together with other emerging markets, is calling for a better hearing at international financial institutions so as to better reflect their growing economic power.
"Zhu's appointment at the IMF will be a significant step toward breaking up the US and Europe's dominant position in the international financial stage," said Pang Zhongying, professor of international relations at Renmin University of China.
In response to mounting calls for reforming the governance structure at these multilateral institutions, world leaders have reached a consensus that the emerging markets deserve a louder voice that would match their growing clout.
At the IMF-World Bank annual meeting held in Turkey earlier this month, the IMF promised to shift its quota shares toward dynamic emerging markets and developing countries by at least 5 percent, from the over-represented to the under-represented countries, before January 2011.
"Zhu taking up the post as the IMF deputy managing director on behalf of the Chinese monetary authority will no doubt be a significant progress for the international financial institutions' reform effort, and will play an active role in enhancing developing countries' status in the global order," Fu Lichun, an analyst with Southwest Securities, said.