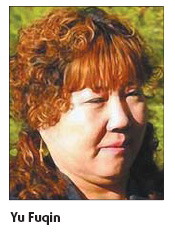 A couple from Xinjiang Production and Construction Corps were removed from their posts on Monday after an online video - showing the wife slapping a tour guide in the face - triggered public anger, an official from the organization confirmed Tuesday.
The wife, Yu Fuqin, Party secretary of a hospital attached to the No 221 Regiment of the corps, and husband, Chen Wei, vice-colonel of the regiment, were dismissed, corps' official Zhang Nan said.
Established in 1954, the corps is an economic and semi-military governmental organization that has de facto administrative authority over several cities in the Xinjiang Uygur autonomous region.
The punishment came days after Internet chat rooms were awash with photos, videos and articles showing Yu, in her 50s, touching an ancient mural in the Mogao Grottoes in Dunhuang, Gansu province, at 11:30 am on Oct 6. A 19-year-old tour guide surnamed Zhao asked her not to touch the mural, whereupon Yu slapped Zhao twice on the face.
The mural was painted during the Xixia Dynasty (1038-1227), and Mogao Grottoes, known for its Buddhist murals, are on the United Nations' World Heritage list.
Related readings:


 Wife's slap after hearing fortune


 Slap on the wrist not enough for lying officials


 Teacher forces pupils to slap themselves


 Woman in custody after slap frenzy
Yu's two slaps "shocked" everyone in the grotto and caused Zhao to burst into tears, said an article on tianya.cn, a popular interactive website.
When a security staff member came over to find out what were going on, the husband said they are an important couple and asked the security guard not to "play up the matter", it said.
The grottoes' office called the local police and after hearing testimony from five tourists, the police demanded that the woman apologize.
On Oct 7, the woman walked proudly into the police station and apologized "without sincerity" in front of hundreds of tour guides who work at the grottoes, the article said.
Photos circulating on the Internet showed that the couple and their companions drove four cars with government license plates, the article said.
The couple's act caused uproar among netizens, who dubbed them "the most brazen regiment couple".
Corps official Zhang said the organization is probing the matter and "will release the result on the Internet as soon as possible".
Some netizens applauded the quick response by the corps.
A netizen going by the moniker "j002001" said that seeing authorities dealing with the incident so quickly is an improvement over past responses.
Another netizen tagged "Jiazhongdingliangzhu" said that the punishment is fair and timely.
But some netizens worried that the couple will be reappointed after the public attention diminishes.
A tianya.cn survey showed about 23.1 percent of the 9,433 voters feel satisfied about the corps' decision to remove the couple. About 32.8 percent said they are dissatisfied, while the rest said they are waiting for further investigation.