The general manager of China's most influential and profitable financial magazine has resigned along with dozens of her staff after a scuffle over editorial control with the publication's powerful owner.
Zhang Xianghui, public relations director at Caijing Magazine, told China Daily Tuesday that the journal's Daphne Wu Chuanhui and nearly 70 employees, or more than two-thirds of the business department, had resigned.
Dai Xiaojing, manager of media operations at the Stock Exchange Executive Council (SEEC), Caijing's owner, has been appointed the new general manager, Zhang said.
The mass resignations followed escalating pressure in recent months by the SEEC to rid the outspoken magazine of its widely reputable editorial independence, two inside sources told China Daily on the condition of anonymity.
"The key is, the SEEC wants to intervene and censor all of our financial stories, particularly cover stories and investigative reports. That's unbearable (for us)," one source said.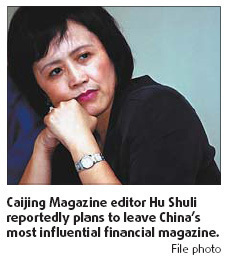 "None of the real stories we used to run would have been OK (with the SEEC) if they stepped in," the source said.
Hu Shuli, Caijing's founder and editor, is also likely to leave the publication, according to both sources, who said most editorial staff will "fight on" with her and leave if she does.
Zhang, for her part, refuted the allegations, stressing that the reshuffle so far is normal and has not involved Hu or the editorial department.
A veteran journalist herself, Hu has kept the Beijing-based bi-weekly vocal on issues relating to official scandals, corporate fraud and public health emergencies since it was founded in 1998.
Caijing boasts a circulation of 225,000 and is a major money-maker for the Hong Kong-listed SEEC Media Group, which owns and publishes the magazine. The journal pulled in HK$ 54.1 million ($6.9 million) in the first half of this year, contributing about 47 percent of the SEEC Media Group's total revenue during the period.
Despite heightened expectations from its owner and publisher in the face of the economic downturn, earlier reports say the 56-year-old has maintained that editorial integrity is fundamental and pressured the group into surrendering majority control by bringing in outside investors.
If this failed, Hu may resign to launch a new venture, according to the reports.
The SEEC Media Group was not available for comment.