Credit agencies will be banned from collecting personal information in an attempt to protect individuals' privacy rights, according to a draft regulation prepared by the State Council.
The new rule would be China's first nationwide regulation regarding the credit investigation system, experts said.
The draft, issued by the State Council Legislative Affairs Office on Monday to solicit public opinion, bans credit agencies from collecting personal information such as appearance, genetic data, fingerprints, blood type and disease history.
Related readings:


 Short-term export credit insurance doubles


 Credit, contracts and capital among the fruits of SME fair


 Central bank: Credit card debt continues to grow


 Moderate credit growth expected


 China's banks tighten credit card policies
Credit agencies are also forbidden to collect information about a person's ethnic identity, family, religious beliefs and political affiliation, according to the draft.
China's credit investigation industry has been growing since the late 1980s. The credit bureaus collect information from various sources and provide credit information on individuals or companies for a variety of uses, such as helping lenders assess a potential borrower's credit worthiness or payment ability.
But the industry is fledgling and needs to be regulated, experts said.
"Frankly speaking, China lacks professional and formal credit agencies. Most of the credit agencies are controlled by organizations like banks or insurance agencies," said Zhao Xijun, professor of finance at Renmin University of China.
But the new regulation is an important step to set standards in this field. At the same time, China's laws should stress the protection of personal information, Zhao said.
Credit organizations can collect a person's financial data such as his or her income, deposits, property and taxation only if the person approves the release of the information in a written document and is well informed about the possible effects, the draft rules said.
They also need the person's approval to provide his or her information to their clients.
Credit bureaus can collect financial data about corporations and organizations but need their approval for the data to be given to a third party.
However, the Credit Reference Center run by the People's Bank of China, the central bank, is exempt from the restrictions.
The center, a nonprofit organization founded in 2003, is in charge of developing and operating a nationwide credit database.
This center has created credit files for more than 14.4 million companies and organizations, and 640 million individuals, China Youth Daily said.
Banks are required to report credit data of their clients to the center, according to the draft.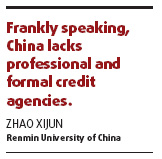 The center can also collect information about individuals, corporations and organizations.
The government, law enforcement departments and other legal administrative organizations can use the credit data at the center in line with laws, according to the draft rules.
Under draft rules, banks are banned from providing information for credit agencies without a qualification granted by the credit reference regulator, the People's Bank of China.
Xinhua contributed to the story