China and Russia agreed Tuesday to enhance their 60-year friendship by cementing political trust and strategic partnership of cooperation while expanding collaboration in the trade, energy and military sectors.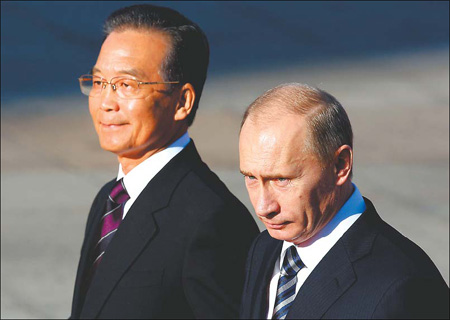 Premier Wen Jiabao and Russian Prime Minister Vladimir Putin walk outside the Great Hall of the People in Beijing Tuesday after arriving for an official welcoming ceremony.[China Daily/ Xu Jingxing]
The deals were the key results announced after talks between Premier Wen Jiabao and visiting Russian Prime Minister Vladimir Putin Tuesday at the Great Hall of the People in Beijing.
During the talks, which Wen said were "frank, efficient, pragmatic and in-depth", both heads of government vowed to enhance the political base of China-Russia ties by accommodating each other's core interests and major concerns while supporting one another's measures to safeguard national sovereignty and territorial integrity.
Related readings:


 China, Russia celebrate 60th anniversary of diplomatic ties


 Russia, China work on gigantic oil, gas cooperation project


 China, Russia sign 12 agreements during Putin's visit


 China, Russia bolster ties with $3.5B deals


 China, Russia set to ink slew of contracts
Wen said stable and mature China-Russia relations not only benefit the two nations but support world peace and development.
The leaders signed and witnessed the signing of 11 agreements and memorandums.
On the major international issue of responding to the global financial crisis and reforming international monetary systems, they agreed the world must establish a new financial order that is fair and all-encompassing, based on multilateralism and the principle of accommodating mutual interest.
Both vowed to oppose all types of trade and investment protectionism.
Wen and Putin pledged to broaden cooperation in the energy sector, agreeing to ensure the completion of an oil pipeline between China and Russia before the end of 2010, so that Russia can start supplying oil to China in 2011.
The countries also signed a framework agreement calling for Russia to supply China with natural gas as well as the roadmap to implement the memorandum of understanding on natural gas cooperation signed on June 24.
In the areas of economy and trade, the countries stressed optimization of their trade structures and financial cooperation by using the two countries' currencies for settlement.
While acknowledging that the volume of bilateral trade had fallen as a result of the global economic downturn, Putin said there are signs that show the restructuring of bilateral trade offers optimism.
Both leaders highlighted the agreement the nations' top customs chiefs signed Tuesday to standardize the supervision of customs clearance.
The deal, making the customs process more transparent for Chinese exporters, was aimed at eliminating the illegal practice of paying to get items across the border without official customs approval, said Russian Deputy Prime Minister Alexander Zhukov in an interview with the Russian News and Information Agency.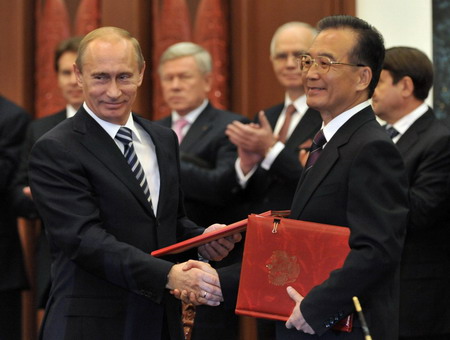 Russian Prime Minister Vladimir Putin (L) and Chinese Premier Wen Jiabao shake hands after signing a bilateral cooperation agreement at the Great Hall of the People in Beijing October 13, 2009. [Agencies] 
More photos
Meanwhile, the two countries pledged further cooperation in space, aviation, transportation, telecommunications, information technology and environmental protection.
They outlined their cooperation in space exploration and development between 2010 and 2012 in a pact signed Tuesday by the heads of the two countries' space organizations. Under the deal, the nations will work together on moon and extraterrestrial exploration.
A memorandum of understanding was also signed that clears the way for China to join Russian partners on developing high-speed trains in Russia.
In the military realm, by signing a missile launch notification pact Tuesday, China and Russia agreed to notify one another about plans to launch ballistic missiles and carrier rockets.
"This pact further elevates mutual trust between our two countries, and such trust is very important in enhancing the strategic partnership of cooperation," Putin told reporters.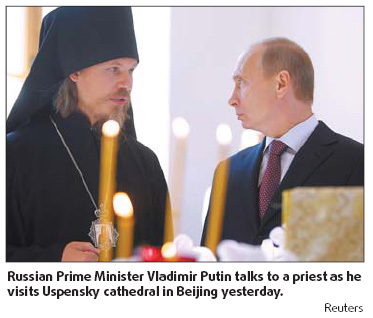 Putin said Russian-Chinese cooperation was one of the most important elements in ensuring global stability.
"Our consolidated view on certain issues, our ability to coordinate our stance on key international developments often help calm the situation and play a stabilizing role," he told reporters earlier.
Apart from the natural gas deal, agreements signed between the two countries Tuesday were reportedly valued at $3.5 billion.
While agreeing to build cultural centers to promote culture in each other's country, the two leaders decided to hold a Year of Chinese Language in Russia next year.