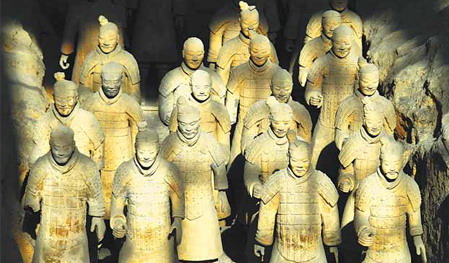 Terracotta warriors from the No 1 pit are on display in the Museum of Terracotta Warriors and Horses. [Photo by Niu Yixin/Chinadaily]
Clad in a traditional Chinese beige shirt and glasses, gray-haired Yang Zhifa busily signs books in a gift shop in the Museum of Terracotta Warriors and Horses.
He occasionally pauses to puff his long-stemmed pipe and exhales a cloud of smoke.
Hanging on the wall next to him is a huge photo of former US President Bill Clinton meeting him on June 26, 1998.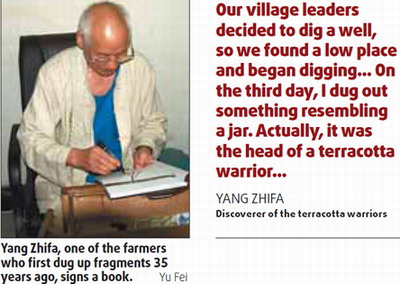 Yang was one of the farmers who discovered the terracotta warriors' fragments 35 years ago. They were drilling a well in Xiyang village, Lintong county, 35 km east of Shaanxi's provincial capital Xi'an.
The 72-year-old stopped farming 14 years ago to begin a 9-to-5 routine. He now earns a salary of 1,000 yuan ($147) a month from the gift shop for signing books of which he is not the author.
Tour guides bring a constant stream of people to the bookstall.
"This is Mr Yang Zhifa, the first discoverer of the terracotta warriors and horses," the guides tell tourists.
"We are so lucky to meet him here today. If you buy a book, he will sign it."
Actually, Yang sits there every day.
The 150-yuan book, Dreams of the Qin Dynasty Terracotta Army, sells almost 500 copies a day in peak season. It is published in eight languages, including Chinese, English, Japanese, French and Spanish.
Related readings:


 Feastful offer for visitors to Terracotta Warriors


 More than Terracotta Warriors: Hidden fortunes in Xi'an


 China starts 3rd dig-up of terracotta warriors


 China's terra cotta warriors coming to Houston
Some generous tourists drop tips into the drawer in front of Yang.
"I heard that he is one of the first discoverers, so I want to buy a book with his signature as a gift for my grandson," American Lloyd Carlton says.
Yang silently immerses himself in the autographing. His signature is hard to read. If a tourist raises a camera, he uses his pipe to tap the plate in front of him, which reads: "No photo, no video".
"I'm tired of signing and of the noisy tourists, and I hate tabloid reporters," Yang says.
A Chinese newspaper in 2002 described Yang as an illiterate who didn't know how to write his own name. It claimed he could only draw three circles as his signature when he met Clinton.
Yang is still angry about the story and insists he had a primary school education. He sued the newspaper for defamation and won 20,000 yuan in damages.
Yang has been invited to Beijing, Shanghai, Hong Kong and Japan to tell his story about discovering the terracotta army.
"The weather was very dry in 1974, and the grain was dying in the fields," Yang says.
"Our village leaders decided to dig a well, so we found a low place and began digging.
"We found the red earth was very hard about a meter down. On the third day, I dug out something resembling a jar.
"Actually, it was the head of a terracotta warrior, but we didn't know that at the time.
"Another villager asked me to dig gently so he could take the 'jar' home to use as a container.
"Then we dug out the body, which was like a statue in a temple."
Nobody knew the statues would be one of the greatest archeological discoveries of the 20th century. Fragments were scattered throughout the fields, and farmers sold many bronze arrowheads to the recycling station.
It wasn't until archaeologists arrived months later that the farmers realized the find's significance.
Yang never went to view the terracotta army over the next 20 years, until a manager of the museum's gift shop asked him to sign books in 1995.
"He said he would pay me 300 yuan a month; I thought, 'that's not bad', so I came," Yang says.
His salary has since increased to 1,000 per month, he says.
"Although I often feel tired of signing, I'm satisfied with my life."
He still has the hoe he used to dig out the terracotta warriors 35 years ago. Now, he uses it to plant flowers around his house.