SHANGHAI/HONG KONG: Tengzhong, a little-known Chinese machinery maker that has agreed to buy GM's Hummer brand, said on Monday it has begun to seek regulatory approval for the deal, aiming to close the purchase by early 2010.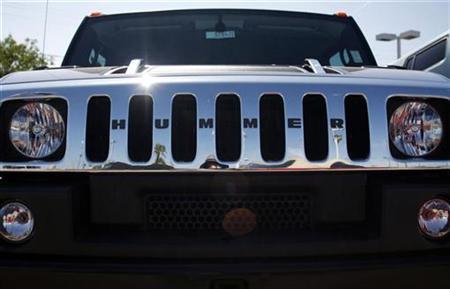 A Hummer vehicle sits in the parking lot of a dealership in Scottsdale, Arizona June 2, 2009. [Agencies]

Sichuan Tengzhong Heavy Industrial Machinery, which first announced its intent to buy Hummer in June, has been in touch with the Chinese government after signing a landmark deal to acquire the brand last week, a company spokeswoman said.
"We have started communicating with the relevant regulatory bodies and will continue to support the application process in accordance with the requirements," she said, adding that Tengzhong hoped to close the deal late this year or early 2010.
She did not specify which government bodies Tengzhong had contacted. China's Ministry of Commerce has authority over the deal while the National Development and Reform Commission would have to approve any new major investment in the country, such as building a new manufacturing base.
Related readings:


 Hummer deal nod likely soon


 China deal to help Hummer go fuel efficient


 Hummer deal between GM and Tengzhong comes to formal agreement


 Tengzhong may finalize Hummer contract 'soon'


 Iconic Hummer brand sold to Chinese manufacturer
She said Tengzhong would also explore opportunities to set up a Hummer manufacturing base in China targeting the Chinese market.
The deal must also be approved by US regulators.
Initial sentiment toward the sale was negative in China, with many questioning why a Chinese firm with no experience running a major Western brand would want to buy a struggling name known for its large gas-guzzling vehicles.
But the mood has turned more neutral since then, with regulators saying such purchases should be allowed when they make commercial sense.
Tengzhong aims to gain a globally known brand, intellectual property, a trademark and manufacturing expertise from the deal.
The purchase agreement with General Motors Co, signed on Friday, underscores the fast rise and global ambitions of the Chinese auto industry, populated by a wide range of fast-growing, aggressive car makers such as Geely Automobile, SAIC Motor Corp and BYD.
It marks the first time that Chinese investors have stepped in as major buyers into the distressed US auto industry, and comes after China surpassed the United States to become the world's largest auto market.
A source close to Tengzhong previously told Reuters that the Hummer business would be sold for about $150 million, far less than GM's earlier estimate that the brand could fetch more than $500 million.
Under the deal, Lumena Resources Corp Chairman Suolang Duoji would hold 20 percent of the investment vehicle buying Hummer. Tengzhong would hold the remaining 80 percent.
Hummer has its origins in a multipurpose vehicle known as the Humvee that was used by the US military. GM bought the brand in 1999 and its sales peaked in 2006, but they have been hit hard since then by a slumping US economy and higher gas prices.