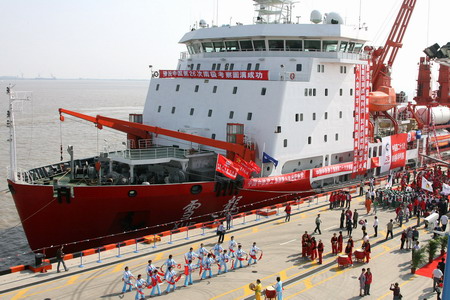 Icebreaker Xuelong, or "Snow Dragon" prepares to leave for China's 26th scientific expedition to the Antarctica, in Shanghai, on Sunday, Oct. 11, 2009. Snow Dragon is the first and only polar exploration vessel China has ever manufactured. [Xinhua]

SHANGHAI: With hundreds of people waving hands and saying goodbye, Chinese scientists left Shanghai Sunday morning for the country's 26th scientific expedition to the Antarctica.
Chen Lianzeng, deputy director of the National Bureau of Oceanography (NBO), declared at 10:10 am the start of China's 26th expedition to the Antarctica.
A group of 251 scientists, workers and logistics staff from China, Australia and Russia began the half-year-long research expedition in the icebreaker Xuelong, or "Snow Dragon."
During the trip, two exploration teams would be sent to the inner land of Antarctica.
One would head to China's Kunlun Station located at Dome A, the highest point on the continent at 4,093 meters above sea level, where more research equipment would be installed for astronomical observation.
The other to the Grove Mountains some 400 kilometers away from the Zhongshan Station to collect meteorolites and conduct other scientific research. From 1998 to 2006, China has made four trips of scientific research to the mountains and collected 9,834 meteorolites, making the country boast the third largest collection of meteorolites in the world.
The scientists were expected to return to Shanghai on April 10 next year.
China launched its first expedition to the Antarctic in 1984 and has set up three stations there.
According to the Polar Research Institute of China, the Chinese have made nearly 4,000 visits to the South Pole during the past 25years.