CHONGQING: Several organized-gang trials will begin on Monday following the massive police operation that led to the arrest of hundreds of alleged gangsters and the police officers who reportedly protected them.
"Each of these cases shares characteristics like many accused suspects, lengthy spans of crime time, multiple charges dropped and complicated proofs of crimes - meaning the trials will be very difficult," according to a statement on the Chongqing No 2 Intermediate People's Court's official website.
Other intermediate courts of the city also posted statements on their websites saying that measures had been taken to arrange enough capacity for those trials starting next week and precautions had been planned against security threats.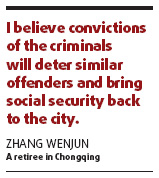 Some residents are happy to see the trials begin.
"I believe convictions of the criminals will deter similar offenders and bring social security back to the city," said a local retiree, Zhang Wenjun.
More than 600 alleged gangsters from 19 organized gangs have been arrested and 263 have faced prosecution in Chongqing during the first eight months of this year, officials from the municipality's procuratorate said in late September.
The local newspaper Chongqing Morning Post reported in August that 67 key figures of the organized gangs who had been arrested by then were suspected to have committed 21 crimes altogether.
"Committing multiple crimes is one feature of organized gangs. It is understandable that they had been charged with so many crimes," said Wu Yuchao, a Beijing-based lawyer.
Officials from No 1, 2, 3, and 5 intermediate courts of the city refused to give more details to China Daily about the approaching trials, saying that the cases must be kept confidential.
Related readings:


 Chongqing: Busting gangs takes toll on police


 Former Chongqing official arrested


 Chongqing continues gang crackdown


 Wanted thief meets cops on 'date', gets gang busted


 Gang members in Weng'an get up to 20 years in jail
But the city's No 5 intermediate court announced on its official website that it will try the only female gang boss, Xie Caiping, reportedly in her 40s, over charges of "having organized, led and participated in mafia-styled gangs" next Wednesday morning.
Connected to Xie's case is her brother-in-law, Wen Qiang, former director of Chongqing Judicial Bureau, who was arrested in September for protecting gangs.
Also, Guo Sheng, former deputy chief of Huangnibang public security office in the city's Yubei district, and Gan Yong, its police officer, were also prosecuted for protecting organized gangs under Xie's leadership in September.
Intermediate courts had been reportedly ordered to close other crime cases last month in order to reserve capacity for the coming peak season of organized-gang trials.
The No 2 intermediate court said it had designated a special courtroom to hear the cases and divert regular cases to other courtrooms to help concentrate on organized crimes.