SHANGHAI: Zhao Benshan, China's best known comedian, remained in stable condition yesterday after undergoing an operation, media reports said.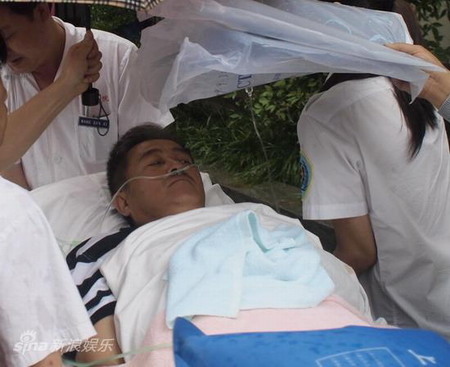 Chinese comedian Zhao Benshan is rushed to hospital in Shanghai, Wednesday September 30, 2009. [sina.com.cn] 
He was hospitalized following a cerebral aneurysm rupture, an intracranial catastrophe associated with high morbidity and mortality, sources close to his doctors said.
The 51-year-old Zhao, who was in the city to promote his new sitcom, was rushed to a hospital in suburban Shanghai early Wednesday morning before being transferred to Huashan Hospital, showing symptoms similar to cerebral hemorrhage.
"There's a huge aneurysm in his brain which is very tricky," the source said. The hospital still needs to negotiate with his family members on how to deal with it, and now he had been given intensive care, she added.
A witness surnamed Luo said that Zhao complained about a swollen head and was sent to Huashan around noon yesterday.
"He looks terrible," Luo said.
His hospital ward was sealed off with security guards. His friends, fans and neighbors arrived at the hospital for visiting yesterday.
A native of Liaoning province, Zhao is now a household-name comedy actor in China. He has been diversifying into fields of singing, sitcom directing and even business in recent years.
He is viewed as the godfather of er'renzhuan, a northeastern rustic type of entertainment that involves talk, singing, dancing and doing stunts with handkerchiefs or folding fans.
Zhao initially gained nationwide popularity at CCTV New Year's Gala in 1987, and since has become a regular performer at the smorgasbord of various art forms that runs from 8 pm to midnight every Chinese New Year's Eve and has dominated TV screens in China.
In recent years, Zhao has complained that long hours in front of the camera bring him job-related exhaustion and made him feel uncomfortable.
He fell ill when the shooting of a TV drama made him too exhausted, Liu Shuangping, president of Benshan Media Group, a company founded by Zhao, said yesterday evening.