Japan's new ruling party said it would be "courageous" in its handling of historical issues that have long impeded the nation's relationship with its neighbors.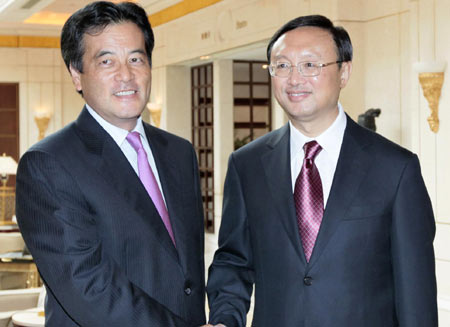 Foreign Minister Yang Jiechi (R) shakes hands with Japanese Foreign Minister Katsuya Okada in Shanghai September 28, 2009. [Agencies]
"There are various thoughts inside the Liberal Democratic Party (LDP), but the thought of the Democratic Party of Japan (DPJ) is that we have the courage to face up to history, and we will look to the future," Katsuya Okada, Japan's foreign minister, told Hong Kong-based Phoenix TV in Shanghai on Tuesday.
He was responding to a question about the new government's policy toward China.
His party beat the LDP, which had controlled Japan almost continually for 54 years, by a large margin in the Aug 30 election.
Okada, who is Japan's top diplomat, did not specify concrete plans to tackle the historical problems but sources from both Chinese and Japanese academic circles told China Daily the DPJ government was ready to announce with China the results of a three-year joint history research project that recognized facts surrounding Japan's invasion of China and the Nanjing Massacre.
China claims around 300,000 civilians were killed in Nanjing after the city's Dec 9, 1937, capture by Japanese troops.
However, Japanese textbooks have carried greatly reduced casualty estimates and some books have denied the massacre - and even the Japanese invasion of China - took place.
The DPJ also said its leader would not visit the Yasukuni Shrine, which is dedicated to the spirits of soldiers if it won the election. The LDP has never ruled out future visits.
Okada, who has visited China about 20 times in the past 15 years and is viewed as a key figure in the development of relations with Beijing, also pointed to a pragmatic approach toward handling problems in bilateral ties.
"We'll use our relationship network and mutual trust to make our relations develop in a good direction," he said during his interview with Phoenix TV. "Without a good China-Japan relationship, there will be no bright future."
Liu Jiangyong, a senior expert on Sino-Japanese relations at Tsinghua University, has met Okada several times and described him as having many supporters in both China and diplomatic, political and academic circles in Japan.
"Now Okada is in the position he has been preparing for years and has become one of the key decision-makers in the new Japanese government. That will greatly help improve our ties," he told China Daily.