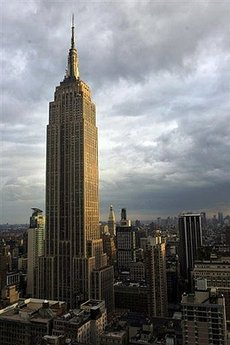 The Empire State Building is seen here in June 2009 in New York City. [Agencies]
NEW YORK: New York's iconic Empire State Building will light up red and yellow Wednesday in honor of the 60th anniversary of the People's Republic of China.
The Chinese consul, Peng Keyu, and other officials will take part in the lighting ceremony which will bathe the skyscraper in the colors of the People's Republic until Thursday, Empire State Building representatives said in a statement.
The upper sections of the building are regularly illuminated to mark special occasions, ranging from all blue to mark "Old Blue Eyes" Frank Sinatra's death in 1998 to green for the annual Saint Patrick's Day.
Just last week the tower turned bright red, celebrating the 70th anniversary of the film "The Wizard of Oz" in which Dorothy wears ruby slippers rather than the silver of the original L. Frank Baum novel.