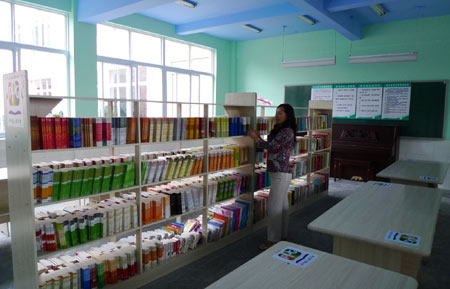 The new library in the Wenchang No. 2 Primary School in Zitong County, Sichuan Province. [chinadaily.com.cn/Huang Zhiling] 
ZITONG: Zhao Yizhou, Chen Xin and Chen Zihan, three 10-year-old fifth graders in the Wenchang No. 2 Primary School in Zitong County, Sichuan Province, could not contain their excitement Friday as the inauguration ceremony of their school's new library was held.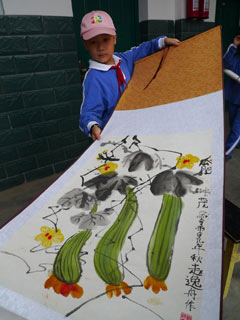 Zhao Yizhou, a 10-year-old fifth grader in the Wenchang No. 2 Primary School shows a painting he had done. He plans to send it to a representative of PPG participating in the library's inauguration ceremony in appreciation for his support for his school. [Chinadaily.com.cn/Huang Zhiling]
"We can read science books again," the three boys said in one voice.
Both their school buildings and reading-room were ruined in the 8-magnitude earthquake last year. The trio's school library is one of 50 libraries to be built in the county by PPG, a global supplier of paints and coatings based in Pittsburgh, the United States, through a partnership with the Beijing Red Cross Foundation.
PPG has donated more than 150,000 books to 10 libraries, which have been completed.
"Culture and education flourished in Zitong, but thousands of children no longer have books to read after the earthquake, limiting their horizons and possibly their futures. PPG hopes these libraries will help to improve the lives of children in Zitong," said Cathy Yan, general manager of government affairs and business development, PPG Asia/Pacific.
PPG has been contributing to reconstruction in Sichuan since the earthquake struck in 2008, and the company is engaging in talks about possibly increasing donations there, she said. .