China is still faced with severe river and lake pollution as the water quality in 30 percent of the country's major river sections is below par, officials at the Ministry of Environmental Protection (MEP) said yesterday.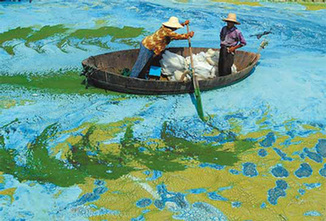 Workers clean blue algae in Chaohu Lake in Anhui province on June 19. [Shen Xiang] 

Sections of the Haihe River in the Inner Mongolia autonomous region, Liaohe River in Jilin province, Yellow River in Shanxi province and Dianchi Lake in Yunnan province failed to pass the latest environmental check on key river sections in China, according to the ministry's spokesman Tao Detian.
China set the goal of improving water quality at 115 key river sections in its 11th five-year plan (2006-10). Eighty river sections were rated "qualified" in the latest check carried out by eight ministries over the past three months.
But the other 35 river sections failed the check for insufficient investment in pollution prevention projects, low operating rate of sewage treatment facilities or high levels of ammonia nitrogen pollution, Tao said.
Related readings:


 Bangladesh river pollution threatens millions


 River pollution halts water supplies


 32 firms shut down for river pollution


 Shaanxi tackles river pollution

Ammonia nitrogen is a result of industrial sewage discharge or excessive fertilizer. High ammonia concentrations are toxic to aquatic life.
Officials from the four provinces that failed the examination will have to give an explanation for their slow progress to the State Council, said Chen Yongqing, an official in the pollution prevention department at MEP.
"Curing river and lake pollution requires persistent efforts. Although these four provinces have made some achievements, they're still not enough to improve the water quality in a short period of time," said Chen.
But the four provinces are not expected to be penalized this year, according to Chen.
"The result is a warning for the four provinces, as well as others," said Chen. "But when we carry out the second round of checks next February, those who don't pass will not be granted permission to start new projects until they fix their problems."
Also, officials of the local governments will be denied promotions until the problems are fixed, Chen said.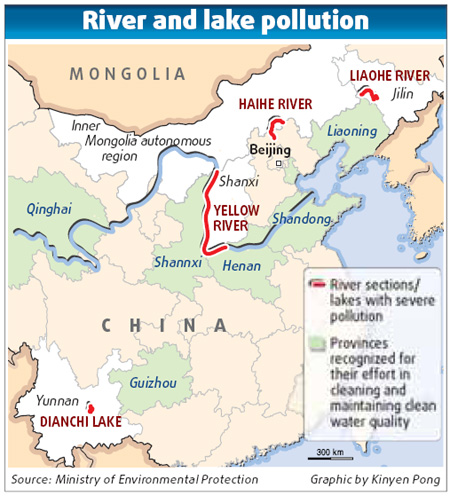 The environmental check found that the Haihe and Liaohe rivers, the reservoir area of Three Gorges dam and middle and upper reaches of Yangtze River contain a high level of ammonia nitrogen.
And Taihu, Chaohu and Dianchi lakes are suffering from eutrophication, which means excessive nutrition. This causes blue algae outbreaks, due to the excessive concentration of phosphorus compounds.
By the end of 2008, 43.75 billion yuan had been invested in pollution reduction projects for 115 river sections. This total accounts for 37.7 percent of the Ministry of Environmental Protection's budget between 2006 and 2010, MEP officials said.
China's latest "State of the Environment" report, published in June, shows that the seven major rivers still suffer from severe pollution. About one-fifth of the 409 sections in China's 200 rivers recorded a water quality worse than Grade V, which means unfit for human touch.