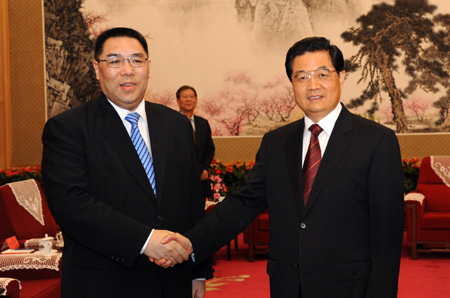 In this August 12, 2009 file photo, Chinese President Hu Jintao (R) shakes hands with the new chief executive of the Macao Special Administrative Region Chui Sai On in Beijing. [Xinhua]
MACAO - The election of the 4th Legislative Assembly of Macao Special Administrative Region (SAR) officially started Sunday morning as voters began casting ballots in 28 polling stations across the city.
Related readings:


 Macao banks' lending to SME up 19.7% in H1


 Macao's H1N1 confirmed cases climb to 953


 Macao's loans to private sector top $11b in June


 Macao's visitor arrivals down 11.9% in first 7 months


 Hu congratulates Macao's new chief executive
The new legislature will comprise 29 seats, including 12 directly-elected seats, 10 indirectly-elected seats, and seven others which will be appointed by the SAR chief executive.
A total of 122 candidates from 16 groups will contest in the direct elections, while voting for the indirect elections will not take place since only 10 candidates have been fielded by the four constituencies involved for the 10 seats.
Candidates and their supporters are not allowed to wear campaign garb on this election day, as activities related to campaigning are banned, according to the SAR's Legislative Election Affairs Committee, which oversees the election.
The number of Macao's registered voters has reached 249,886 in this year's election, or about 46 percent of the SAR's population of over 540,000. The registration rate increased by 13.25 percent over the previous legislative election in 2005.
By law, only Macao's permanent residents aged 18 and above have the right to vote. A polling station was also set up in the Macao Prison to ensure the right of residents who are serving their jail terms.
The polling period will last from 9 a.m. to 9 p.m. Sunday, and the final results are expected to be announced at 2 a. m. Monday.
Some 11,000 votes are needed to win at least one seat in the new legislature, the Macao Daily Post quoted local analysts as saying.
The SAR's Commission Against Corruption (CCAC) said it had received some 231 complaints on violations of the election rules by Friday, a drop of 47 percent over the previous election. But only four of these complaints entered investigation process, said Cheong U when casting his ballot in a polling station.
He pledged that the CCAC will keep a close eye on the election process, and once malpractices such as bribery are reported, they will promptly launch investigations into them.