GENEVA - The Chinese government on Monday filed a formal complaint to the World Trade Organization (WTO) over steep U.S. tariffs imposed on Chinese-made tyres.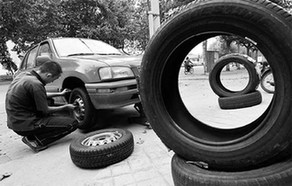 A mechanic changes a tire at a garage in Rizhao, East China's Shandong province, on Saturday. [China Daily] 
Under the WTO's dispute settlement system, the two countries will now have 60 days to try to resolve the dispute through consultations. If consultations fail, China can go further by requesting a WTO panel to investigate and rule on the case.
"China put forward a formal request for consultations with the U.S. under the WTO dispute settlement mechanism on the U.S. special safeguard measures against Chinese tyres," the Chinese mission to the Geneva-based body said in a statement.
Related readings:


 China launches anti-dumping probe into US auto, chicken products


 China may appeal tire tariff case to WTO

 US tire tariff may cost 100,000 jobs in China: industry official


China strongly opposes US protectionist tariffs on tires from China


 US tire tariff sends "wrong signal" to world


 US tire duties 'serious trade protectionism'
"China believes that the above-mentioned measure by the U.S., which runs counter to relevant WTO rules, is a wrong practice abusing trade remedies," the statement said.
"China's request with the U.S. for consultations is based on the normal pracice of WTO members under the dispute settlement mechanism and concrete action by China to protect its own interests," it added.
The Chinese mission also expressed hope that "all sides will understand its determination to firmly fight against trade protectionism so as to commonly safeguard the multilateral trading system by respecting WTO rules."
U.S. President Barack Obama on Friday approved punitive tariffs up to 35 percent on all car and light truck tires from China in a so-called attempt to "remedy the clear disruption to the U.S. tire industry."
China had quickly denounced the U.S. move as a serious act of trade protectionism which violates WTO regulations.