Just two days after the decision by the United States to levy heavy import tariffs on Chinese tires, the government here has reacted by launching an anti-dumping and anti-subsidies investigation into automotive and chicken exports from the US.
The Ministry of Commerce (MOFCOM) Sunday did not label it as retaliation against the tire dispute, but said it acted simply in a response to domestic concerns.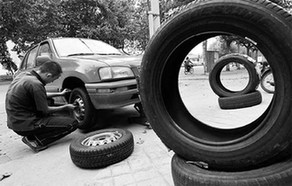 A mechanic changes a tire at a garage in Rizhao, East China's Shandong province, on Saturday. [China Daily] 
The probe, which is in line with World Trade Organization (WTO) rules, follows complaints from Chinese manufacturers that US-made products entered the nation's markets with "unfair competition" and harmed domestic industries, said the ministry in a statement.
MOFCOM added it is still opposed to trade protectionism and committed to working towards global economic recovery.
US President Barack Obama's signed a document "to apply an increased duty to all imports of passenger vehicle and light truck tires from China for a period of three years" on Friday, according to the White House.
In addition to the existing duties of 4 percent, tariffs will rise a further 35 percent in the first year, 30 percent in the second and 25 percent in the third. The levy will take effect before Sept 26.
The move was met with anger in China.
Minister of Commerce Chen Deming branded the decision a violation of WTO rules, a grave act of trade protectionism and a breach of the commitment the US made at the Group of 20 (G20) financial summit in London in April.
Related readings:


 China launches anti-dumping probe into US auto, chicken products

 China may appeal tire tariff case to WTO


 US tire tariff may cost 100,000 jobs in China: industry official


China strongly opposes US protectionist tariffs on tires from China


 US tire tariff sends "wrong signal" to world


 US tire duties 'serious trade protectionism'
"This is an abuse of special safeguard provisions and sends the wrong signal to the world," he said in a statement on the MOFCOM website. He assured China would do everything in its power to protect the legitimate rights of the tire producers but did not elaborate.
However, in an earlier statement, ministry spokesman Yao Jian said the country would "reserve all legitimate rights, including referring the case to the WTO".
Washington played down the dispute on Saturday, claiming it is simply "enforcing the rules" and did not expect the move to escalate into a trade war.
However, the US could also levy heavier tariffs on other imports from China, such as steel, aluminum and chemical products, according to an industry insider who asked to remain anonymous.
The US Commerce Department on Thursday said it had made a preliminary decision to impose duties ranging from 11 to 31 percent on imports of Chinese steel pipes used for oil and gas wells.
The ruling supports the proposal made by the nation's steel producers led by US Steel Corp, which claimed Chinese imports were granted unfair subsidies.
MOFCOM, however, said the ruling is not in line with the subsidy and anti-subsidy agreements under the WTO framework.