Taiwan's former "leader" Chen Shui-bian faces judgment in court this afternoon on charges of corruption.
Chen, 58, is accused of embezzling $3.15 million between 2000 and 2008 from a "special presidential fund", receiving bribes worth at least $9 million in connection with a government land deal, laundering money through Swiss bank accounts and forging documents.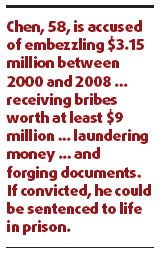 If convicted, he could be sentenced to life in prison.
Chen has pleaded not guilty and claims he is being persecuted by his successor, Ma Ying-jeou.
Taiwan media reported Chen had "given up hope for the ruling" and will not go to the Taipei Local Court to hear his sentence, but instead has already prepared for appeal.
Most Taiwanese are convinced Chen is guilty of at least some of the charges against him, though some of his supporters believe his political views have played a role in his prosecution and that he has been unfairly confined to jail during his trial.
Cheng Wen-lung, Chen's former lawyer who was dismissed in May, said he may handle Chen's appeal case. He said the statement of defense was finished and would be announced at a press conference after the verdict this afternoon.
Related readings:


 Chen will stay behind bars during rest of trial


 Chen's daughter loses tax appeal


 Chen trial ends: verdict to come in September


 Chen's wife told relatives to commit perjury
Taiwan's opposition Democratic Progressive Party (DPP) threw its support behind its former pro-independence leader and urged the court to release Chen after the trial today.
Hsu Tain-tsair, the DPP mayor of Taiwan's Tainan city, threatened that, if the court would not release Chen, "the DPP's forbearance will be pushed too far, and it would not rule out arousing mass movements".
However, Taiwan media believed there was a slim chance the court would release Chen.
Qiu Yi, a member of the ruling Kuomintang party (KMT), said today is "an important day for Taiwan" to see if the corruptible can be punished.
Taiwan based Central News Agency reported evidence from several key witnesses against Chen who testified he was directly involved in the above corruption cases.
In addition, more than $30 million in Chen's overseas family bank that still hasn't been remitted back to Taiwan.
Chen rode to power in 2000 on a promise to clean up decades of KMT corruption and preached Taiwan's independence. His term ended in 2008 and he was succeeded by the KMT's Ma Ying-jeou, who adopted positive mainland policies last May.
Chen's wife Wu Shu-chen, their son and several associates are also standing trial with him.
Last week, Wu was convicted on perjury charges and sentenced to a year in prison. She remains free on bail.
China Daily - AP