A Chinese official Monday denied allegations that demand for ivory from Chinese workers is a main contributor to rising elephant poaching in Kenya.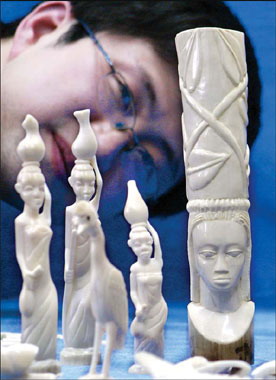 A customs official examines ivory products confiscated from a local postal office in Hangzhou, Zhejiang province in this file photo. The ivory sculptures were found to have been smuggled from African countries. [China Daily[
Wan Ziming, director of enforcement and training at the endangered species' office of the State Forestry Administration, said illegal ivory imports to China have declined significantly since 2000, despite smuggles from individual workers or travelers to Africa.
The country used to be the world's largest ivory importer and ivory products exporter before the global ban in 1998.
"Now the amount of illegal ivory brought to China has been far less than many other countries," Wan said.
He added about 30,000 kg of ivory was illegally traded to Vietnam, Thailand and the Philippines last year, while China seizes about 300 kg of illegal ivory each year.
Wan's remarks came in response to the latest blast from a Kenyan non-governmental organization.
Paula Kahumbu, director of Wildlife Direct, a Kenya-based non-government organization, was quoted by Reuters as saying that elephant poaching is rising in Kenya due to demand from an influx of Chinese workers into Africa.
Chinese nationals working on projects in Africa were placing orders for tusks with poachers, she said.
"There's a massive influx of people, who are not very wealthy, who can afford to buy ivory at local prices and who make a lot of money out of it when they get it back to China," she said.
East Africa is still recovering from extensive poaching in the 1960s and 1970s before the global ban.
Elephants endangered
In 1989, poaching had reduced populations to about 17,000 elephants.
Related readings:


 New caterpillar plague hits Liberia, spreads to Ivory Coast


 About 47 tons of ivory auctioned in South Africa


 UN gives nod to ivory imports


 UN body allows China to import ivory from Africa
Locals have received orders from Chinese people working on a road in northern Kenya, she said.
"I've been told up to 90 percent of seizures of ivory in this country are currently (from) Chinese nationals. To me, it's very clear that there's a link."
Wan admitted the domestic price of ivory products is higher than in other countries, which might contribute to smuggling. He added the home market is also being powered by the rising demand of wealthy Chinese, he said.