Taiwan's "premier" resigned Monday over strong criticism of the government's response to the most devastating storm to hit the area in 50 years.
The island's top leader immediately named a senior official from the ruling party as Liu Chao-shiuan's replacement.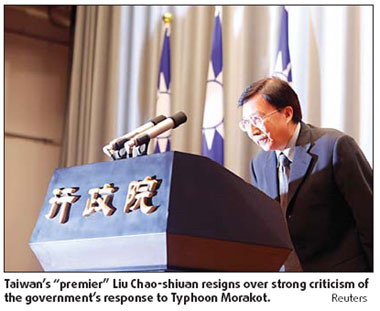 Public anger over the government's handling of the disaster has been the toughest test facing Taiwan leader Ma Ying-jeou since he took office last year.
Liu Chao-shiuan, 66, said he decided to tender his resignation at this time because his "Cabinet" had completed the initial stage of rehabilitation work, following Typhoon Morakot on Aug 8 and 9.
The typhoon left an estimated 670 people dead and a trail of destruction across the island.
"I have completed my duties at this phase," said Liu, who had held the post of "premier" since Ma took office in May 2008.
Liu's move sets the stage for the rest of the "Cabinet" to resign. Liu said he expected that will happen on Thursday.
Ma accepted Liu's resignation and appointed Wu Den-yih, a colorful and outspoken official from the ruling Kuomintang (KMT), to take his place.
Related readings:


 Resignation of Taiwan 'Executive Yuan' head approved


 Taiwan not to bid for UN seat


 Mainland cancels events following Dalai's Taiwan visit


 Mainland in quick support to typhoon-ravaged Taiwan


 Taiwan leader accepts blame for slow relief efforts


 CNN Again! Poll on Taiwan leader backfires
Wu, 61, is the KMT secretary-general and a "legislator" who had earlier served as mayor of Kaohsiung, a major port city, for eight years.
Wu told a news conference he will abide by the principles championed by Ma, which include the pursuit of peace and stronger economic links with the mainland.
Wu said he will name new "Cabinet members" in a few days, after discussing the lineup with Ma.
"We will unite and strive with our best efforts to shoulder the difficult task ahead," he told reporters.
Taiwan's low-profile "vice-premier" Paul Chiu also resigned Monday.
Chu Li-lun, a county magistrate and a KMT rising star, was named to replace him.