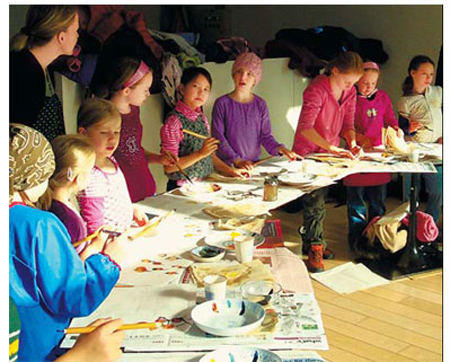 Home-schooling children gather once a week to have group lessons on art or science, organzied by Beijing Home Schoolers, an Internet-based support group. [Photos courtesy of Beijing Home Schoolers]
Close to home
With a crimped economy tightening belts, a growing number of expatriates in China are seeing home schooling as a solution to the soaring cost of tuition.
Expats living in China usually weigh two options for formal schooling, says Arkansas native Liora Pearlman, a founding member of Beijing Home Schoolers, an Internet-based support group.
Related readings:


 Crisis? Not yet, say expats in China


 China lifts tuition fees for compulsory schooling


 Protest naked against increasing tuition


 China abolishes tuition fees in all rural schools


 Expats hail Beijing's transformation
Their children can attend an international school, where tuition is afforded mainly by employees of multinational conglomerates whose pay packages include children's education, or be enrolled in Chinese schools where classes are taught solely in Mandarin, Pearlman says.
"International school education is certainly not cheap, and in situations where companies or organizations do not cover children's education, some parents may feel that they have no choice (but to home school)," says Wayne Denmar, principal of Beijing BISS International School. For the 380 students attending BISS, annual tuition costs range between 96,000 yuan ($14,000) for kindergarteners to 172,000 yuan ($25,200) for high school seniors.
"I think that parents have an obligation to do what they believe is best for their children," Denmar says.
Many of those lacking access to the deep pockets of employers are adopting a do-it-yourself attitude.
"When Beijing Home Schoolers was formed in 2007 there were only 10 members and now we have almost 60," Pearlman says. "And the numbers are still growing."
Estherine Chan, administrator of the Shanghai Area Learners Together (SALT), says she has seen a similar rise in the number of families choosing to home school.
"We have noticed a big increase in the home-schooling population here, and I think it's for several reasons," including reductions in the amount of expatriate education packages because of the global economic downturn, Chan says.
For American Pat Sommers, the cost of educating her 7-year-old daughter, Ellie, one year at an international school would average 150,000 yuan ($22,000).
When Sommers moved to Beijing two years ago from England, following her English husband whose online mapping software company, Schmap! is based in Beijing, she thought enrolling Ellie in an international kindergarten was the best option. The cost was too high, though, so Sommers decided to explore the Chinese school system.
Initially, she intended to give Ellie a gap year dedicated to teaching Ellie Mandarin before moving to a Chinese school system.
The mother and daughter would wake up at 8 am, have breakfast with "papa", and begin schooling about 9 am. Most days of the week classes consisted of math, reading and writing, with Sommers using computer software and grade-appropriate books as teaching materials. On Tuesdays, the pair met other members of the Beijing Home Schoolers for group lessons on science or art. Afternoons were spent visiting Chinese tutors or exploring Beijing's museums.
When the year was up, Sommers found that she enjoyed playing the dual role of mother and teacher so much that she decided to continue Ellie's home schooling for another year.
"It was never anything I planned on doing for more than a year, but after the first year I fell in love with the process," she says. "If I wasn't put in this position I would have never considered home schooling an option," says Sommers.
With major subjects, such as math, English and science, suspended for the remainder of a "summer break", Ellie has dedicated her days to working with tutors teaching Mandarin, guitar and table tennis.
One of the biggest advantages of home schooling is the freedom and flexibility in determining what to teach, Sommers says.
"I put her through lessons based on what she's motivated to do, then, after the decision is made I make her stick with it," Sommers says.
In addition to curricular flexibility, home schooling also allows Sommers to provide proper meals for her daughter, a vegan who consumes no meat or dairy products.