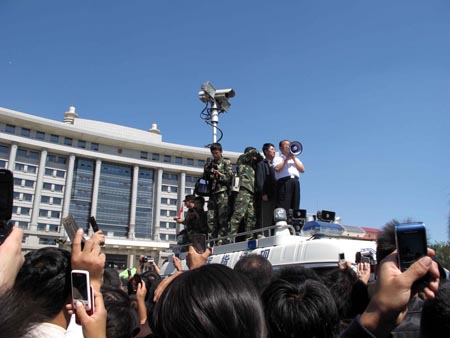 Li Zhi (1st R, on the car), secretary of the Communist Party of China Urumqi City Committee, speaks to crowds in Urumqi, capital city of Xinjiang Uygur Autonomous Region, September 3, 2009. [Xinhua]

URUMQI: Urumqi residents confronted armed police Friday during protests against further hypodermic needle attacks as uncertainty stalked the streets of the city.
More than 1,000 protesters faced armed police who blocked them from entering Nanhu Square at about 1:40 pm.
Related readings:


 Police chief visits Urumqi to defuse unrest

 Urumqi still uneasy after needle stabbings


 Calm restored in Urumqi following syringe protests


 51 to be prosecuted in wake of Urumqi riot


 Post-riot counseling offered to Urumqi students
Witnesses said two members of the Uygur ethnic minority were caught attacking innocent people with needles in the vicinity of a Carrefour chain store Friday and the victims wanted revenge. But policemen sequestered the two suspects, which triggered angry responses from the public.
The police used tear gas to disperse the crowd. Broken glass was seen on the ground.
Another group of more than 100 young demonstrators marched on Jiefangnan Road around the city's bustling commercial area about 2:30 pm.
The protesters, mainly young people, shouted "punish mobsters severely and restore peace and tranquility." Many held national flags and sang the national anthem.
About 100 armed police officers holding shields moved along with the protesters. When the crowds tried to break through a police cordon, the police fired tear gas, forcing the protesters back.
A Xinhua reporter at the scene said tears were running down his face and the fumes were choking.
A young man in his 20s sustained three injuries. His thigh was bleeding and police officers sent him to hospital.
All shops, banks and commercial facilities along the street were closed.
Military wagons still patrolled the area while armed police issued orders through loudspeakers, asking the public to show restraint.
A number of other small-scale confrontations were reported in the city Friday.
Helicopters were hovering over the city for the second time since the July 5 riot that left 197 people dead.
The municipal government confirmed Friday it had issued an order banning unlicensed marches, demonstrations and mass protests.
The announcement Thursday night, following a massive protest against a series of syringe attacks in the city, aimed to "safeguard public order,  protect the lives of the public and guarantee the safety of property," said a government spokesman.
Weapons, knives with restricted uses, explosives, the use of violence, and creating disturbances have also been banned.
If there are violations "the public security department will disperse those gathered, and detain or punish those who disobey the order."