SINGAPORE: Chinese Vice Premier Wang Qishan left Singapore for China after winding up his four-day official visit to the city state on Wednesday.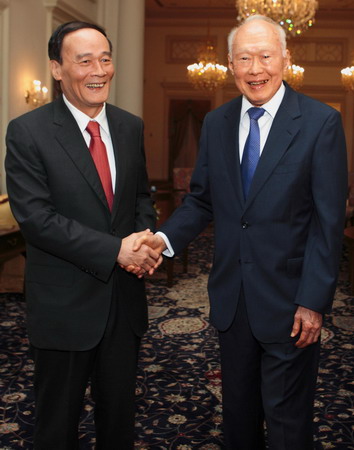 China's Vice Premier Wang Qishan (L) is greeted by Lee Kuan Yew, Singapore's minister mentor and former prime minister, before their meeting at the Istana presidential palace in Singapore August 25, 2009. [Agencies] 
During his stay here, Wang co-chaired the 6th China-Singapore Joint Council Meeting for Bilateral Cooperation, the 11th China-Singapore Joint Steering Council Meeting for the Suzhou Industrial Park and the 2nd China-Singapore Joint Steering Council Meeting for the Tianjin Eco-City with his Singapore counterpart Wong Kan Seng.
They also witnessed the signing of Memorandums of Understanding (MOUs) related to educational cooperation and science and technology, and a Protocol to the tax treaty between the two countries.
Related readings:


 China, Singapore hold joint council meeting for bilateral co-op

 Chinese Vice Premier Wang Qishan starts visit to Singapore


 Chinese vice premier to visit Singapore

 Sino-Singapore Tianjin Eco-city on track

Li-Ning opens flagship store in Singapore
Apart from co-chairing the meetings, Wang also called on Singapore leaders such as President S. R.Nathan, Prime Minister Lee Hsien Loong, Senior Minister Goh Chok Tong and Minister Mentor Lee Kuan Yew.
During their meetings, both sides reaffirmed the close ties between the two countries and discussed how bilateral cooperation could be further enhanced. They also exchanged views on the regional and global economy, and the challenges in the aftermath of the global financial crisis.
At the invitation of Singapore's Deputy Prime Minister Wong Kan Seng, Wang arrived here Sunday, and this is Wang's first official visit to the city state in his current capacity as vice premier.