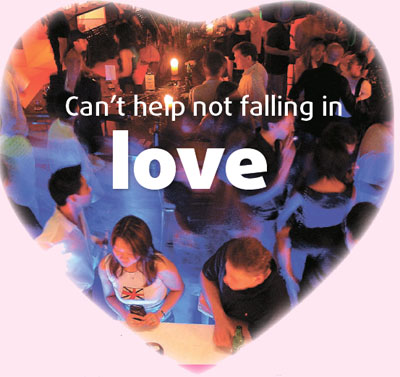 With Chinese Valentine's Day falling on Wednesday, Shanghai expat Sean Tucker is getting excited, not about serenading his lover with music and flowers, but about returning to New York City, where he believes his romantic destiny awaits.
Related readings:


'Kiss Me a Lot' on Valentine's Day


Gays, lesbians mark Valentine's Day


Thousands marry on Valentine's Day
"A lot of it has to do with the fact that I'm getting older and want to settle down," said the 30-year-old American.
"All my friends are getting married, or are in serious relationships, so I don't want to wait too long and go back to be the old, lonely man," he added.
Having spent the last couple of years in Shanghai, where he currently works as a creative consultant, Tucker has ruled out the possibility of finding his soul mate in the city. He describes Shanghai as overflowing with local women interested in nothing more than materialistic pursuits and superficial realities.
"I just haven't found anyone interesting that I relate to," he said. "I also don't fit into the perception of what a successful man looks like, or how they should carry themselves in Shanghai.
"It may be easy to meet a girl here," he added. "But if you want a long-term relationship, it's difficult."
As couples get ready to snuggle up to one another for the Chinese version of Cupid's holiday, Tucker is among a growing number of expat men who are more likely to be out partying with friends than professing true love later this week.
New research shows that local women are becoming increasingly selective and are no longer as interested in dating wealthy foreign men as they were in the past, according to Qu Yuping, a professor of psychology at the Shanghai University of Traditional Chinese Medicine.
"The financial situation for Chinese girls is better now. They are earning more comparable salaries to men and even some expats," she said. "So when they pick the type of man they will date, money isn't as important anymore. They are instead looking at the whole package."
Qualities topping the list are physical attraction and a comfortable lifestyle, including how potential partners eat and their living environment, she added.
"Just like how there is now a greater selection of clothes and food in the city, Shanghai girls also have more opportunities to choose from since there are more foreigners," said Qu. "At the same time, the way Chinese men are now packaging themselves has also improved, and they are not necessarily seen as so much worse off than a foreigner."
But Chinese author Zhang Jiehai insists that expat males still hold the upper-hand.
In his 2009 book The Investigation on Chinese Men, he said foreign females have a much tougher time finding a committed partner in the Middle Kingdom due to existing stereotypes.
"Most foreign women refuse to date Chinese men; they simply aren't interested," said Zhang. Even those women who had lived in China for over a decade had not changed their minds about Chinese men, according to his research.
Zhang added that foreign women don't typically view Chinese men as handsome.
"Chinese men don't pay attention to their appearance; they don't wash their hair everyday, don't shower everyday, and so they don't smell all that good," said Zhang.
"They don't dress well, and they are not so humorous or gentlemanlike," he added, noting they often have bad table manners and spit on the streets, hardly the kind of qualities that attract foreign women.
Unlike Chinese girls, foreign ladies are less hung up on money since they are more financially independent, or can rely on the welfare of their home country, said Zhang.
"The biggest problem for Chinese men is they lack the confidence needed to date foreign women," he said.
"I just don't find local guys attractive," said Italian Silvia Bonvini. "It's not a racial thing, there have been American-born Chinese that I have liked, it's just that Chinese guys dress differently, move differently, and a lot of them have long nails - I wouldn't even consider going for a guy with nails longer than mine."
The petite 25-year-old, who has been in Shanghai for roughly two years, said she also finds it difficult to relate to Chinese men on a deeper level due to their introverted personalities, which is why she looks to the city's expat men. But that too, has its challenges.
"You never know when they will jump to the next place," she said. "These guys seem to be in holiday mood, so they don't want to get into anything too serious."
The head-hunter said finding a steady partner is especially tough with expat men because they also tend to have Chinese girls crawling all over them, and their feelings seem to change as fast as the Shanghai skyline.
"In China, we say there is a talent shortage," she said. "So we can also say there are very few skilled managers - and very few skilled boyfriends."
"I do have very little hope in the expat guys that are here, but I'm not going to stop finding them attractive," she added.
Despite challenges, however, others are a little more optimistic about finding their life partner in the city. Canadian David Plaskos admitted once enjoying the generous attention he received from foreign-bound Chinese girls when he first arrived. But he said they grew tiring, fast.
"I realized I was passing along a long list of girls who are looking for English lessons, or are just curious about dating foreigners," he said. "Most 'good' girls don't go to bars or clubs."
The 31-year-old English teacher, who said he is drawn to Chinese girls for their femininity, has immersed himself in the local culture for the past three years, picking up Mandarin, and even the Shanghai dialect. After breaking it off with one Chinese girl who presented him with an ultimatum for marriage he could not accept, he said cultural barriers still exist when securing "quality girls" in the city.
Still, he is thinking of sticking around. He believes his odds of meeting that special someone are better in Shanghai than back home.
"I think if your heart is in the right place, it will eventually come to you," he said. "There are so many people here you're bound to run into the person who is right for you."