* The government has been "on the right track" in making policy decisions to develop low-carbon technologies as new economic growth engines.
China's carbon emissions output could peak around 2030 if the government continues to be serious about "strengthened measures" to improve energy efficiency and if it accelerates exploration of renewable energy, a panel of experts says.
In 2050 China Energy and C02 Emissions Report, the panel from the National Development and Reform Commission and the Development Research Center of the State Council, says that with the right policies, emissions growth could slow after 2020, with a peak around 2030.
This is the first time a Chinese think-tank has officially announced when it thinks China's carbon emissions will peak.
The international community has closely watched the country's carbon emissions curve because China and the US are the top two carbon emissions countries in the world.
The panel has advised China to invest significantly in low-carbon technology research and development, saying the strategy of developing such technology is "a stone killing two birds".
"Only by using advanced low-carbon technologies can China's greenhouse gas emissions peak around 2030; otherwise, the peak will be delayed and we don't want to see the latter scenario," said Jiang Kejun, a leading economist of the panel.
Related readings:


 HSBC reduces its carbon footprint with 'green' strategies, CO2 offsets


 Official urges early exit of high-emission vehicles


 ADB develops new tech to cut China emissions


 China vows to reduce emissions


 Carbon emission futures talk boosts HK bourse operator
If the peak happens around 2030, the huge investment in low-carbon technologies could keep China's economy growing at a fast pace and make China a global leader in cutting-edge technologies.
"I think China will become a major supplier of nuclear, wind and hydropower technologies and electricity transmission by 2030," Jiang told China Daily yesterday. "And that should be a strategic goal for the Chinese government to pursue."
If China can achieve these goals, by 2050, its carbon emissions from fossil fuel "could fall to the same emissions levels as in 2005 or even lower", the report said.
The panel told China Daily earlier that the government should pump an average of 1 trillion yuan ($146.5 billion) into low-carbon technology development each year until 2050.
"The money would be mainly used to introduce technologies that would raise the energy efficiency of end-users in industry, construction and transportation," said Bai Quan, another expert of the panel.
Jiang said the government has been "on the right track" in making policy decisions to develop low-carbon technologies as new economic growth engines while countries worldwide are working on a plan by October to replace the Kyoto Protocol, which is set to expire in 2012.
Last week, the State Council required that all provincial and local governments consider climate change initiatives in their economic and social development policies.
In early June, Premier Wen Jiabao affirmed that China would put in place carbon emissions reduction targets in national development programs.
China, thus, would assess its economic performance by how much less carbon it would emit per unit of GDP growth.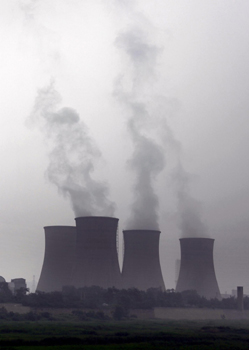 Smoke rises from a coal-burning power station located on the outskirts of Beijing August 17, 2009. [Agencies]
Experts believe the decision has major policy implications.
They said that once action is taken, China would accelerate the pace of restructuring its energy mix and economic structure, and seek a "green recovery path" out of a worsening financial crisis.
"These are vital decisions and pledges. The implications will largely go beyond China's stated commitment to fight global warming," He Jiankun, deputy head of the State Council's Expert Panel on Climate Change Policy, told China Daily.
He said China might consider a reduction in carbon emissions per unit of GDP as early as the start of the 12th Five-Year Plan (2011-15), and that it would decide the career path of bureaucrats by their performance in carbon reduction.
If that were the case, China would enter a new era in terms of climate change policy compared with its 20-percent energy-saving target for the 11th Five-Year Plan (2006-10).
Reuters contributed to the story