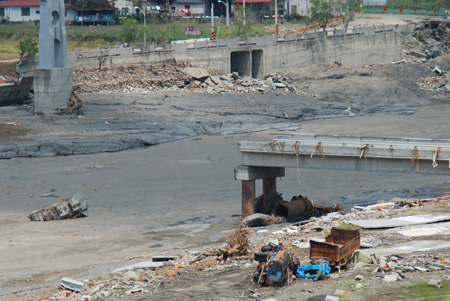 A collapsed bridge is seen in Jiasian township, Kaohsiung county, Taiwan, August 15, 2009. The storm brought by typhoon Morakot resulted in serious damage and great casualties in the south of Taiwan since late last week. [Xinhua]
TAIPEI: Typhoon Morakot has killed at least 124 people and left 56 missing in Taiwan as of 10 pm Saturday, according to local disaster response authorities.
Another 45 people were injured after the typhoon, the worst on the island in nearly five decades, wreaked havoc across central and southern regions.
Sixty-six people died in Kaohsiung, 25 in Tainan, 16 in Pingdong, six in Chiayi, seven in Nantou, three in Changhua and one in Yunlin.
Related readings:


 Morakot kills 103, injures 45 in Taiwan


 Morakot's death toll hits 103 in Taiwan


 Morakot kills 3 in Fujian

 Over 1,400,000 affected by Morakot in Fujian


 CPC: Willing to help Taiwan with Morakot losses
Nearly 23,700 people have been evacuated, and almost 5,000 are taking refuge in 170 sheltering camps.
Morakot has caused more than 12 billion New Taiwan Dollars (US$365 million) in damages to agriculture and forestry. Among the worst-hit regions are Pingdong, Kaohsiung and Tainan.
People from a wide range of social sectors in Taiwan have donated cash and materials worth millions of New Taiwan Dollars to support the disaster-relief work.
Charities and enterprises on the mainland also offered relief-assistance to the island.
On Saturday, an official with the Taiwan Work Office of the Communist Party of China (CPC) Central Committee, said the mainland will provide any necessary relief materials needed by Taiwan compatriots affected by the typhoon.
The office has requested factories to manufacture portable shelters day and night, and the first batch is expected to arrive in Taiwan Monday at the soonest.