TAIPEI/TOKYO: A mudslide triggered by torrential rains from a typhoon may have buried up to 600 villagers in mountainous southern Taiwan, disaster officials said on Monday.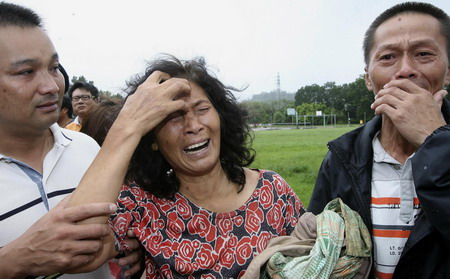 Relatives whose family members are trapped in a landslide-affected village cry while asking for governmental help for them to be evacuated after Typhoon Morakot swept Taiwan, in Kaohsiung county, southern Taiwan August 10, 2009. About 600 people are uncontactable and may be buried under a mudslide in a mountainous village of southern Taiwan following torrential rainfall over the weekend from the typhoon, disaster officials said. [Agencies]

More than 50 people have died in tropical storms striking the Phillipines, China and Japan.
The death toll so far in Taiwan stood at 15, with 55 missing and 32 hurt, since Typhoon Morakot struck the island on Friday and remained in the area through the weekend before battering Chinese mainland's populous east coast.
Rescue squads aboard helicopters had saved only 45 people from Hsiao Lin, a village of 1,000 in southern Taiwan. Rains washed out roads and bridges in Kaohsiung County, severing all land vehicle traffic.
"No small number of single-storey houses have been covered in mudslides," said Richard Hu, an army major-general. "We don't know how many people are there, but homes have definitely been buried."
Related readings:


 Scheduled cross-Straits flights to begin on Aug 31


 12 dead, 52 missing in Taiwan flooding: rescuers


 Hotel swept into river after typhoon


 Million flee as Morakot slams coast


 East China on guard as typhoon Morakot approaches
Local officials said they had lost contact with up to 600 villagers, with inclement weather reducing even helicopter access. The storm caused floods in Taiwan's densely-populated south and farm-related losses on the island were estimated at T$4.2 billion ($128 million).
Morakot killed 22 people in the Philippines. In the Chinese mainland, it damaged more than 1,800 houses in the province of Zhejiang and killed at least one child, the Xinhua news agency said.
One million people were evacuated in the mainland before the storm made landfall and losses were estimated at 2.2 billion yuan ($322 million).
ETAU HEADS FOR JAPAN
In Japan, tropical storm Etau was fast approaching and more than 47,000 residents of western regions were told to leave their homes, national broadcaster NHK reported.
At least 12 people were killed in Hyogo, western Japan, a police official said, while providing no further details. A 68-year-old woman was killed when a mudslide hit a house in Okayama, western Japan.
"The water flashed by in just in a moment," a man told NHK. "I was holding on to the power pole and waiting for an hour and a half."
Domestic flights and train services were canceled and some highways partially closed, NHK said.
The Japan Meteorological Agency said on its Website (www.jma.go.jp) that the storm could hit central Japan on Tuesday. Rain, floods, mudslides, heavy seas and winds gusting to 126 kph (78 mph) were expected in many regions.
Tropical storms and typhoons regularly hit Japan, China and the Philippines in the second half of the year, gathering strength from the warm waters of the Pacific Ocean before weakening over land.