Mining giant Rio Tinto Ltd has committed economic espionage for six years, causing "tremendous harm" to China's economic security, said China's state secrets watchdog in a report.
Data obtained from Rio Tinto's computers showed the company "used all possible means" to obtain secret information, including bribery, according to an article on Baomi.org, a website run by the State Secrets Bureau and an affiliated publisher said.
Related readings:


 Rio case reveals flaws in secrets protection, report says


 China: Evidence in Rio spying case is strong


 Australia urged to treat Rio Tinto spy case 'properly'


 Rio case discussed in Shanghai meeting


 Rio denies espionage allegations
"For six years, these economic spies have curried favor, bribed and spied for information," the article, dated Saturday, said. "The fact that it caused tremendous harm to the national economic security and interest is apparent."
The report said Rio Tinto's spying has forced Chinese steel companies to pay 700 billion yuan (US$102 billion) more for imported iron ore than they would have over the past six years.
The report comes amid investigations by China into an industrial spying case against employees of Rio Tinto, four of whom were detained July 5 on espionage charges.
Rio Tinto declined to comment, but has previously rejected bribery allegations against its employees and has said it knows of no evidence to support the spying charges.
Previous report said the employees who were detained during iron ore price talks - including a China-born naturalized Australian, Stern Hu, who runs Rio's Chinese iron ore business - are suspected of paying bribes for information on China's negotiating stance on the price of iron ore.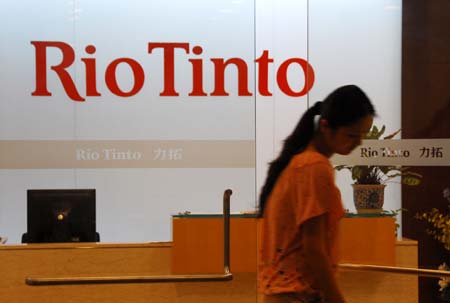 Photo taken on July 9, 2009 shows the Rio Tinto Ltd office in Shanghai, east China. [Xinhua] 
Stricter Controls
The report and others on the administration's website said the government should spell out more clearly what commercial data was regarded as official secrets.
Contacts between local officials, experts and managers and foreign businesses should be more strictly controlled, it said, adding that some were enriching themselves at the expense of Chinese businesses.
"The Rio Tinto spying case has again sounded the alarm over secrets protection by our country's state-owned enterprises and corporations," wrote Luo Jianghuai, a secrets-protection official in eastern China's Jiangsu Province, in an essay accompanying the report on Rio.
Luo said multinationals used Chinese staff with experience in local businesses and government to illicitly gain data and influence.