A 45-year-old man jumped into the Yangtze River from a ship because he was frustrated with his "constantly nagging" wife on Tuesday.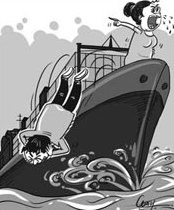 The last words Zhou spoke before jumping into the river were: "I want some peace."
Everyone on the ship thought Zhou would drown in the roaring water. However, he swam to shore and local police found him.
Seeing him alive, his nagging wife, surnamed Hu, 42, hugged him and promised to try and keep quiet.
(Chongqing Evening News)