An illegal Internet rehabilitation camp has been shut down and 13 workers, including its president, have been detained following the death of a 15-year-old in Nanning, Guangxi Zhuang autonomous region.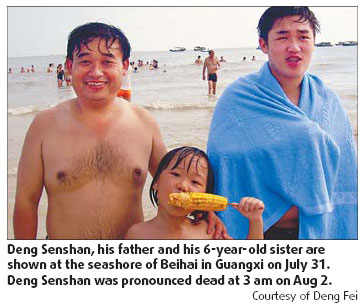 The action comes one week after the death of Deng Senshan, a middle school graduate from Ziyuan, also in Guangxi, who was allegedly beaten to death by counselors at the Qihang Salvation Training Camp, where he was receiving treatment for Internet addiction.
Related readings:


 Parents of teen who died at Internet camp want answers


 Teenager dies in Internet rehab


 Internet addiction not virtual


 Panel wants Internet cafe ban for youngsters
Li Jian, Deng's uncle, has said his nephew's addiction was not severe and that the teenager only surfed the Internet on weekends.
"If we could choose again, we would not have sent him to the camp even if his addiction to the Internet had become worse, as long as he would be alive," Li told China Daily.
"We hope the government will find the reason behind my nephew's death and severely punish the ones who are guilty."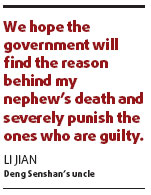 In photographs shown to China Daily, Deng's body is pictured with bruises and his face is covered in blood.
Those photos are in shocking contrast to ones taken just 48 hours before, showing Deng smiling with his father and sister on the beach.
The 13 suspects, including camp president Xia Zheng and counselors, are under investigation for allegedly inflicting intentional injuries and for illegal operation of a camp, said Zhang Shuhui, vice-chief of the Jiangnan district of Nanning.
"Authorities will try their best to solve the case and punish the criminals," Zhang said.
The government closed the camp last Friday and its 122 participants were sent home. Zhang said the camp had not been registered with the proper departments.
"Local police will continue hunting for other suspects involved in the boy's death," Zhang said, without indicating how many suspects authorities were pursuing.
Li said Deng was sent to the camp because his parents wanted him to overcome his Internet fixation.
"He could have been alive, if only the camp paid more attention to him," Li said.
"Senshan had good scores at school before his parents bought him a computer, and then he spent a lot of time online. His parents and school teachers tried to persuade him to stop but he didn't listen," Li said.
According to an agreement the parents signed with the camp, the boy was to stay in the camp from Aug 1 to Sept 1 to "get away from bad behavior, regain confidence and establish positive life attitudes".
The agreement allowed the camp to punish the teenager, as long as this did not involve abuse or injury.
Li alleged that the boy was placed in solitary confinement within hours of his arrival and was beaten to death for running too slowly.
Deng was pronounced dead at Wuxu town health center about 3 am on Aug 2.
Li said that police notified the boy's father, Deng Fei, of his son's death.
Camp president Xia told Shanghai Morning Post last Friday: "In the camp, several counselors ordered Deng Senshan to run about 5,000 m, but the boy didn't finish it and became rebellious. So, he had some conflicts with counselors."
Police immediately detained four suspects, who were in charge of training at the camp.
Xia was quoted as saying that one suspect was a retired special forces officer, two were graduates from a sports school and one was experienced in outdoor training.
Deng had a high fever at 2:30 am, and was sent to hospital.
Zhang said authorities were urging that Deng's parents be compensated.