Experts in international studies say hopes for substantive progress in China-India border talks were "dim" as the two nations began their 13th round of boundary negotiations on Friday.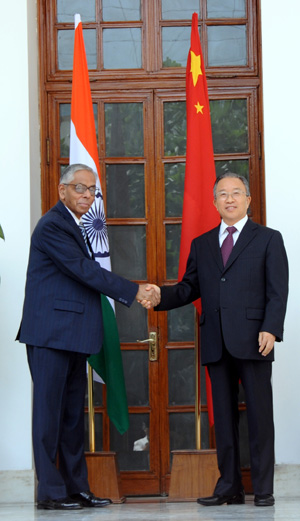 Chinese State Councilor Dai Bingguo (R), special representative of China in the China-India Boundary Talks, shakes hands with Indian special representative, National Security Advisor to Prime Minister M. K. Narayanan, in New Delhi, on Aug. 7, 2009. The 13th round of China-India Boundary Talks kicked off here on Friday. [Xinhua] 

State Councilor Dai Bingguo and his Indian counterpart, National Security Advisor M.K. Narayanan, resumed the talks in New Delhi after a year's hiatus.
China and India established the government representative mechanism in 2003.
Both sides will exchange ideas on how to achieve a political solution to disputed border areas and safeguard peace and calmness, said Ma Chaoxu, spokesman for the Chinese delegation, adding that new talks will push forward bilateral relations.
The border issue stretches back to colonial British rule in the area. China and India share a border of about 2,000 km. The disputed areas cover about 125,000 square km of territory.
In 1914, Britain created the "McMahon Line" separating India and China, which was never recognized by successive Chinese governments. China and India fought a brief war over the border in 1962.
Before the talks, the Hong Kong-based Ming Pao newspaper reported that China's "bottom line" would see China give up its demand for the east stretch of the border while India would give up the west stretch and return China the middle section. So China would get "28 percent" of the disputed area.
Chinese Foreign Ministry spokeswoman Jiang Yu said in a statement on Friday in Beijing that the report was "groundless".
"In the spirit of mutual understanding and accommodation, China is willing to work with India to seek a fair and mutually acceptable resolution," Jiang said.
The Hong Kong media report was based on India's position, said Fu Xiaoqiang, a scholar on South Asia at China Institute of Contemporary International Relations.
Describing the border issue as "complicated", Fu said the latest talks would "hardly" make substantive progress.
Related readings:


 China rejects report on border talks with India


 Backgrounder of China-India border issue


 New Sino-India border talks to boost ties: official


 Ambassador urges political wisdom to settle China-India border disputes
"However, it's a good opportunity for high profile officials to have candid communication. This helps improve understanding between people of the two countries," Fu said.
Indian experts also believe there is little chance that the border dispute will be resolved during the latest talks.
"The outlook of this round (of talks) is certainly not good," said New Delhi-based strategic analyst Brahma Chellaney, Reuters reported. "The atmosphere has deteriorated in recent months, plus there's been escalation of tension along the Himalayan border."
India recently modernized its border roads and moved a squadron of Su-30 strike aircraft close to the border. Arunachal governor J.J. Singh said in June up to 30,000 new troops would be deployed in the area.