BEIJING: There would be no change in China's macro-economic policy amid the world economic downturn, said an official with the country's economic planner on Friday.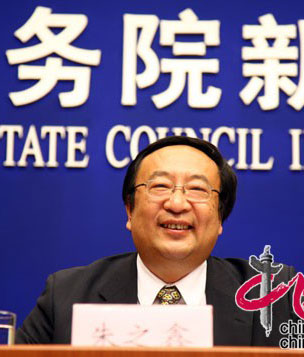 Zhu Zhixin, vice minister of the National Development and Reform Commission, speaks at a conference Friday. [china.com.cn] 
Zhu Zhixin, vice minister of the National Development and Reform Commission (NDRC), said at a State Council Information Office conference that the overseas market was still severe and the country's economic policy direction would remain unchanged.
Although the country's economy has shown signs of recovery, it still  faces of many difficulties in maintaining stability, he said.
"Any change in the macro-economic policy would disturb the recovery or rebound momentum, or even perish the previous efforts and achievements," he said. "Efforts to keep a stable and fast economic development is the top priority of the country in the second half."
Boosted by a surge in investment driven by the stimulus, China's annual economic growth quickened to 7.9 percent in the second quarter, up from 6.1 percent in the first quarter and 6.8 percent in the fourth quarter of last year.
When asked whether a large amount of loan extension would result in inflation, Su Ning, vice governor of the People's Bank of China, or the central bank, said the country's moderately easy monetary policy has played an important role in boosting investors' confidence, enlarging domestic consumption, and inflation should not be a current concern.
Related readings:


 China vows to stick to macroeconomic policies in H2


 Hu urges adherence to macroeconomic policies


 China should continue macroeconomic policy: economist


 Macro Economy: Nation may top Japan GDP in '09


 Macro Economy: Domestic demand will be raised
Chinese banks advanced a record 7.37 trillion yuan ($1.08 trillion) in new loans during the first half of the year, exceeding the full-year target of 5 trillion yuan.
According to statistics from the National Bureau of Statistics, China's consumer price index, a main gauge of inflation, dipped 1.1 percent in the first half from a year earlier. The producer price index, a major measure of inflation at the wholesale level, fell 5.9 percent year on year in the first half.