HOHHOT: Twenty-five of the 246 people who fell ill after an ammonia gas leak in north China's Inner Mongolia Autonomous Region were still hospitalized Thursday, a work safety official said.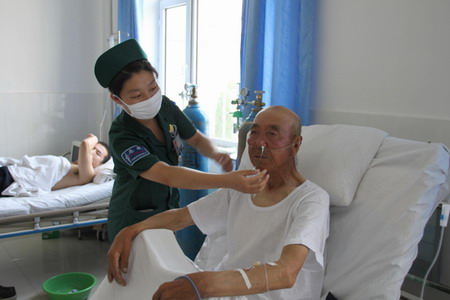 Patient sickened by an ammonia leak is treated at a local hospital in Chifeng City, north China's Inner Mongolia Autonomous Region Thursday August 6, 2009. [Xinhua]
Among the others who were sickened, 70 remained under hospital observation and 151 have been discharged from hospital as of 11 a.m. Thursday, said Zhao Xiangyang, chief work safety official in Hongshan District, Chifeng City.
Related readings:


 202 ill after gas leak in north China


 Hundreds ill after ammonia leak


 US chemical leak sickens 119 people


 1,000 evacuated after chemical leak in east China


 Four miners dead in N China gas leak
The leak occurred at 8:40 a.m Wednesday. when a truck carrying 30 tonnes of liquid ammonia was unloading at the factory of Chifeng Pharmaceutical Group, but was sealed in about 50 minutes, the Hongshan district government said.
A pipe suddenly burst during the unloading. No one died in the leak, according to the government.
The 246 people are workers in the factory, emergency responders and residents living nearby.
An initial investigation suggested that the leak was caused by workers failing to operate the equipment properly and old pipes.