Police have arrested a man who allegedly spread rumors used to trigger the Urumqi riots on July 5, which killed 197 people, police said Wednesday.
Kurban Khayum, a member of the World Uygur Congress (WUC), was arrested for exaggerating the death toll of a factory unrest involving Uygurs in Shaoguan, Guangdong province in June.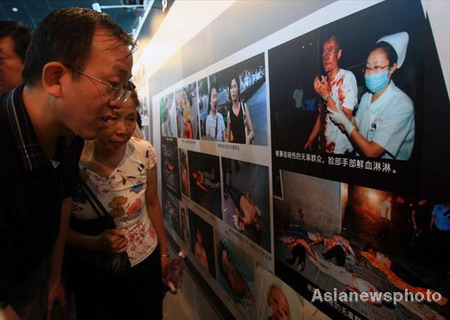 People visit a photo exhibition on the July 5 Riots in Urumqi, capital of northwest China's Xinjiang Uygur autonomous region Wedensday August 5, 2009. [Asianewsphoto]
Earlier that month, the 32-year-old had been instructed by WUC secretary-general Dolqun Isa, to "gather intelligence on separatist activities in China by Uygurs and people of other ethnic groups... in order to carry out activities to split China," according to the statement.
After a factory brawl took place between Han Chinese and Uygurs on June 26 in Shaoguan, Dolqun Isa instructed WUC's intelligence agents, including Kurban Khayum, to gather information on the unrest, which left two people dead and more than 100 injured.
Related readings:


Urumqi Riots
Related readings:


 Wanted list released in Urumqi Riots


 Family charge Kadeer with organizing riots


 Xinjiang's travel industry plummets due to Urumqi riots


 Probe: WUC member forges video of Urumqi riots


 Urumqi riots part of plan to help Al-Qaida
Instead of going to Shaoguan, Kurban Khayum made up a report and sent it to the WUC saying "the factory brawl had caused the death of 17 to 18 people, including three females."
In an e-mail sent to an assistant of WUC leader Rebiya Kadeer, Kurban Khayum wrote, "a massive protest should be staged to let the world know about this bloody incident."
China's police have accused the WUC of arousing antagonism and confrontation between the Uygurs and people of other ethnic groups by spreading fake videos and photographs.
On July 28, a netizen believed to be a key WUC member, was blamed for spreading a fake video about "a Uygur girl beaten to death", which was in fact CNN footage shot in Mosul, Iraq on April 7, 2007.
Meanwhile, authorities in Xinjiang confirmed that innocent civilians accounted for 156 of the 197 deaths in the riot.
Twelve others were shot while committing violence or criminal activities. The identities of the remainder have yet to be determined.
Authorities also admitted that some of the detained suspects in connection with the riot have been released as their offences were minor. But they didn't provide the exact number of those who were released.
China Daily-Xinhua