In the final hours of his life, witnesses say a steel executive shouted at the men who would ultimately kill him: "If you do not kill me today and let me live, I promise you will not even get a bowl of vegetable soup to drink."
The alleged defiant words from 40-year-old Chen Guojun to workers at Tonghua Iron and Steel Co plant are among shocking new claims emerging following Chen's fatal beating in Tonghua, Jilin province, last Friday.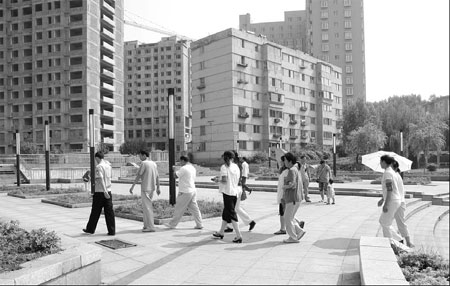 A police officer leads volunteers on a patrol of a square facing the Tonghua Iron and Steel Co in Tonghua, Jilin province, Thursday. [China Daily]


Police are investigating the bloodshed in which Chen, who was set to become general manager of a joint venture between the plant and Jianlong Heavy Machinery Group, lost his life.
The altercation erupted during a meeting at the plant in which Chen spoke to workers about the takeover by Jianlong Heavy Machinery Group.
Related readings:


 Size of deadly protest exaggerated: official


 Manager killed in plant riot


 False rumors led to steel plant brawl
Eyewitnesses told China Daily that the plant was surrounded by 1,000 workers, who began shouting to Chen: "Get out of Tonghua, Jianlong."
Workers began to throw plastic water bottles, and the unrest escalated with Chen being pushed and shoved.
Speaking outside the Tonghua steel plant this week, witnesses told China Daily that Chen shouted at the workers: "I'll make each and every one of you jobless!"
He also said he planned to cut the number of local employees from 13,000 to 5,000.
Furious workers began to hit Chen and chased him upstairs to the second floor.
Witnesses said Chen made his defiant ultimatum before being pulled from the room and attacked.
The gate of the factory was then reportedly blocked in an apparent attempt to prevent ambulance and police vehicles from entering.
Before gaining access, provincial government officials announced the merger would not go ahead.
Workers then allowed emergency staff onto the site and Chen later died.
Standing outside the steel plant Thursday, workers were still fuming about the proposed takeover.
Some were claiming Chen's words led to his death.
"As a general manager, he should take responsibility for his words," said Zhan Shunmin, 39, a taxi driver whose wife is jobless.
Zhan, said cutbacks at the plant would mean less income for him because fewer local workers could afford to take a taxi.
"But the workers were brutal," he added.
Chen's body has been returned to his hometown of Zunhua city in Hebei province. He is survived by his wife, son and twin daughters. His family said they want his killers brought to justice.
"We don't want compensation and our bottom line is to punish those killers," said the family. "It's unimaginably cruel."
A labor bureau head in Erdaojiang district, named Du, said Tonghua steel group was a major employer in the district.
Many locals had already lost their jobs, Du said: "That's why people are worried about massive layoffs planned in the takeover."
"A hairdresser told me women had started to save and not go to his shop to have their hair done," said Du, adding that around 4,000 people of employable age were jobless in his district.