The number of criminal executions will be reduced in China, with the sentence of death penalty with reprieve handed out more often in courts.
Zhang Jun, vice-president of the Supreme People's Court (SPC), said legislation will be improved to restrict the number of death sentences and the SPC will tighten restrictions on the use of capital punishment.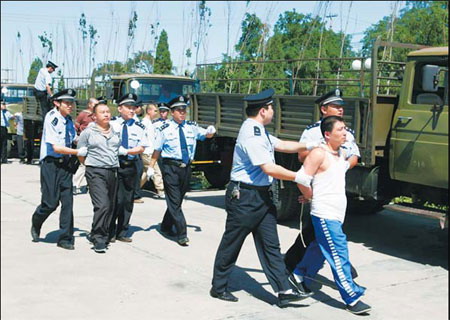 Police escort criminals to the execution site in Tangshan, Hebei province. File photo 
The sentence of "death penalty with reprieve" would be used more often in courts, Zhang said.
Death penalty with reprieve can be commuted to life in prison and later reduced to 20 years and even lessened further for good behavior.
Related readings:


 Killer of eight weeps to execution


 Liaoning province to abolish execution by shooting


 New rule allows stays of execution


 Official's execution a warning siren - paper
"As it is impossible for the country to abolish capital punishment under current realities and social security conditions, it is an important effort to strictly control the application of the penalty by judicial organs," Zhang said in an interview with Legal Daily.
"Judicial departments should use the least number of death sentences as possible, and death penalties should not be given to those having a reason for not being executed," Zhang said.
He said the death penalty has had strong support from many people for more than 5,000 years and that the punishment was seen as "an eye for an eye and a life for a life".
The country will retain death sentence, but it should be applied only to "an extremely small number" of serious offenders, he said.
The SPC has been working to ensure that the death sentence is given only to those who have committed extremely serious or heinous crimes that lead to grave social consequences.
Zhang said the highest court exercises extreme caution in handing down the death sentence to those guilty of killing family members or neighbors over disputes.
People who plead guilty, compensate family members of the victims, or are pardoned by the latter are generally given more lenient punishments.
Last week, the SPC overturned a death sentence handed to a man surnamed Shao, who killed his lover when he found out she was having an affair with another man in September 2006.
Shao's crime was judged as serious enough for capital punishment, but the SPC considered the woman was also partly responsible.
Shao had shown regret and compensation was paid to the victim's family, the SPC said.
Moreover the case did not have a major social impact, so the SPC suspended Shao's capital punishment.
In January 2007, the SPC reserved the right to review all death penalty decisions made by lower courts.
Provincial high courts had handled appeals until that point but had been criticized after reports of miscarriage of justice.
With the SPC given the sole power to review and ratify all death sentences, the country is applying fewer death sentences. An average of 15 percent of sentences were overturned in 2007 and 10 percent were overturned in 2008, insiders told China Daily.
Last year a total of 159,020 criminals were sentenced to death, life imprisonment, or more than five years in prison, accounting for 15.8 percent of all criminal sentences.