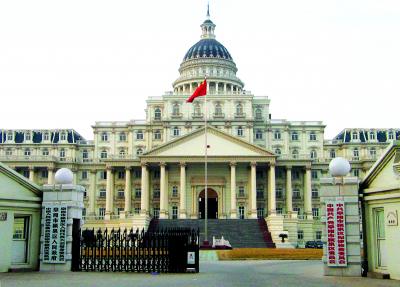 File photo of the government office building in Yingquan district, Fuyang city in east China's Anhui province. [Xinhua]
Anhui
: Thirteen officials were suspended on July 20 for allegedly bribing Zhang Zhi'an, a former Communist Party chief of the Yingquan district, in Fuyang city in east

China

's

Anhui

province.
The officials, who served at the district and town level, allegedly sought promotions from Zhang in exchange for an unspecified amount of bribes given between March 2001 and June 2008, when Zhang was still in power, according to a report posted on the Anhui News Online.  
Zhang became notorious for building an extravagantly expensive government office building in Yingquan district that looked like the White House. Zhang was also suspected of being involved in the death of Li Guofu, a real estate developer who once worked for Zhang and notified police about his abuses of power.
Zhang was suspended from his position in June 2008 and has been under investigation since then. The China Youth Daily reported on July 10 that a government prosecutor in
Wuhu City

,

Anhui
province has charged Zhang with retaliation on a whistleblower and bribery.
A previous Xinhua report in 2008 said that construction of the White House-style building cost at least 30 million yuan (4.3 million US dollars), nearly one third of the total revenue of Yingquan district. Yingquan, with 640,000 people, is a poverty-stricken rural town. The per capita annual income of its farmers is slightly more than 2,000 yuan (285 US dollars).