Police in Jiangxi province will be on red alert when the streets are pitched into darkness by the total solar eclipse on Wednesday.
The State Council has told authorities in the region to do everything in their power to ensure the safety of drivers and pedestrians during the phenomenon.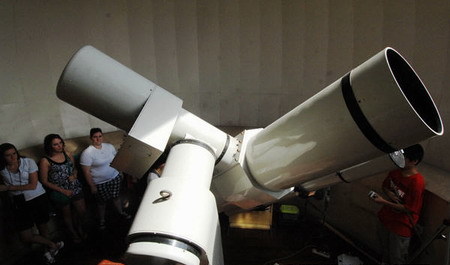 Stargazers prepare for the viewing of next week's total solar eclipse at the Hangzhou Senior High School in Hangzhou, east China's Zhejiang province, July 15, 2009. [Xinhua]

People in parts of the populous Yangtze River valley will experience up to six minutes of complete darkness, while the rest of the country will see a partial eclipse.
Traffic officers will be put on "night-time mode" to regulate the traffic flow, while local media reported the Jiangxi government will hand out leaflets to motorists to remind them to keep their eyes on the road, not the sky.
Related readings:


 Eclipse shines on tourism


 Astronomers gear up for upcoming total solar eclipse


 Students shine light on solar eclipse


 Chinese teenagers guide world fans on solar eclipse


 Stargazers throng to watch rare solar eclipse
Government departments have also been urged to educate people on the scientific spectacle and dispel any panic or superstition.
China National Radio said it had received several calls from people in Wenchuan county, the epicenter of last year's May 12 earthquake in Sichuan province, asking if the solar eclipse would cause another quake.
"Seismology experts think the earth itself is the main cause of earthquakes," said Li Jing, a researcher at the National Astronomical Observatory, who has received similar calls. "Based on our understanding of quakes, they have nothing to do with solar eclipses."
In ancient China, a total eclipse was seen as a bad omen and thought linked to natural disasters like floods, earthquakes and disease.
Netizens even recently drew a link between the total eclipse in 1869 and the worst ever flood in the Yangtze River valley in 1870.
Wednesday's eclipse, the longest until 2132, promises to be a major boon for the valley's tourism industry, with thousands of visitors expected to arrive to watch the event.
Suzhou, a popular city in Jiangsu province, is preparing to receive 10,000 overseas tourists and 100,000 domestic visitors, while in nearby Wuxi, officials are expecting 200 travelers from Japan, local media reported.
China Daily-Xinhua