Water supplies were finally returned to thousands of families in the disaster-hit province of Sichuan yesterday.
Lines were cut for more than 24 hours in areas of Chengdu after heavy rain caused mudslides along the upper reaches of Minjiang River, a tributary of the Yangtze River and a water source for the capital.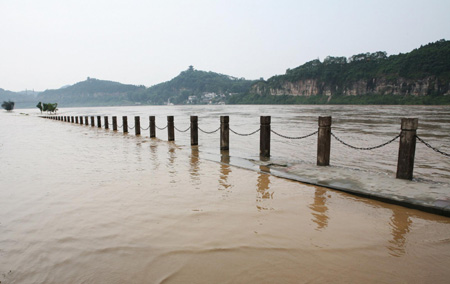 The river bank in the ancient city of Langzhong in southwest China's Sichuan province is seen almost inundated by floods Friday, July 17, 2009. [Xinhua] 


The downpour, which lasted from Tuesday until Friday, wreaked havoc throughout the province, which is undergoing reconstruction following the Wenchuan earthquake last year.
Three treatment plants in Chengdu that process water from Minjiang River were forced to shut down on Friday afternoon due to the level of pollution.
It meant supplies were cut to most in the east and west of the city, and only restored around 9 am yesterday, said a worker surnamed He at the Chengdu Waterworks Company.
Related readings:


 Torrential rain kills eight; five missing


 Record heavy rainstorm hits SW China county


 China grappling with extreme summer weather
The firm sent more than 20 trucks to collect water from other plants in order to supply residents.
The upper reaches of Mingjiang River are vulnerable to geological disasters, said Fan Xiao, an engineer at Sichuan Geology and Mineral Resource and Exploitation Bureau.
He told local media: "Mudslides can easily happen during the rainy season and pollute the river."
Local authorities are now drawing up new emergency water shortage plans, which will include a measure to take water from Beisha River in Dujiangyan.
Beichuan county, one of the areas worst-hit by the May 12 quake last year, also suffered flooding and mudslides from the storm.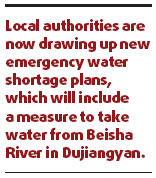 More than 43,600 people from 50 villages were affected, costing the authorities an estimated 100 million yuan ($14.6 million).
Landslides also destroyed some of the buildings in the zone now regarded as a "Beichuan earthquake relic", as well as the newly built road to the Tangjiashan "quake lake".
Xiao Lin, of the Chenjiaba township government in Beichuan, told local media on Saturday that a mudslide had destroyed five bridges and cut off 1,300 people.
The township also experienced disruption to its landline, mobile phone and the Internet services. Local officials had wooden bridges set up and moved people to safer areas.
In Qingchuan county, three townships - Hongguang, Shiba and Magong - were also badly hit by the torrential rain.
In Shiba, electricity supplies were cut for two days, while water supplies were expected to resume yesterday after three days of interruption.