URUMQI: A senior official of northwest China's Xinjiang Uygur autonomous region said Saturday Xinjiang has the confidence to erase the negative impacts of the July 5 riot "in the shortest time" in an interview with overseas reporters.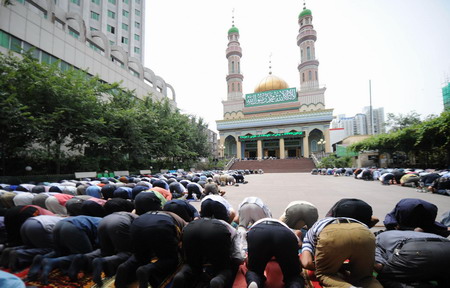 Muslims pray at the Yanghang Mosque on Shengli Road in Urumqi on the Jumu'ah Day, July 17, 2009. [Xinhua]
Nur Bekri, chairman of the regional government, also said in the interview that on the night of July 5, policemen in the regional capital Urumqi "resolutely" shot 12 mobsters after firing guns into the air had no effects on these "extremely vicious" thugs.
Three of them died on the spot while nine died after failing treatment.
Restrained & Unexpected
Full Coverage:

 Riot in Urumqi
Related readings:

Urumqi riot handled 'properly'


Riot hits regional anti-terror nerve

Mosques reopen in Urumqi


Tourism recovering after July 5th riot

Wounded people in the riot discharged from hospital
"The police showed as much restraint as possible during the unrest. Many of them were injured and a 31-year-old officer was killed. He was hit by mobsters in the head with a stone," said Nur Bekri.
He added that many innocent people were injured in the head by thugs with iron rods, stones and bricks. Knives were also used.
According to the official, the riot has left a total of 197 people dead, and most of them were innocent residents.
Nur Bekri admitted that they had never expected a student parade could turn into such ferocious violence.
He said that the local government had taken timely actions to prevent emergencies as soon as they received information on the students' plan.
"But we could never imagine that the mobsters were so extremely vicious and inhumane... We really didn't expect that," he said, referring to thugs entering small alleys and lanes to attack innocent people.
He said that these perpetrators had prepared many weapons such as rods, stones and took actions in various places at the same time, which experts said was similar to the terrorist attacks that occurred in other countries recently.
Nur Bekri said as the local situation is becoming more stable, "it won't be long" before the Internet was completely reopened to the public.
He said that during the riot, the Internet and cell phone messages became the main communication methods for mobsters, and it was necessary for the government to shut down the Internet to stabilize people's emotions and restore social order.
He pointed out this is a measure all countries in the world would adopt in similar situations.
Currently some professional websites are already accessible in the region, he added.
Confidence to Put Xinjiang Back on Track
Nur Bekri told reporters that the negative effects left by the riot would be erased "in the shortest time" and the government had the confidence to ensure the fast development of the region's economy.