While the country is getting ever enthusiastic over next Wednesday's solar eclipse, those hoping to glimpse the event may find the weather dampening their day.
"Weather is always a major concern for observing an eclipse," said Yu Jun, a seasoned eclipse chaser and science reporter. "I usually wait until a more reliable weather forecast is available (before deciding where to observe it)."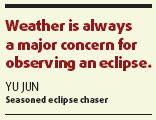 According to the China Meteorological Administration, Wuhan, Chengdu, Emei Mountain, Hangzhou and Shanghai, among the best and most easily-reached spots to see the total eclipse, are predicted to have clouds and possibly rain on July 22.
Yu witnessed the total eclipse in China on Aug 1 last year in the Xinjiang Uygur autonomous region. He had made the decision only three days earlier, which cost him more airfare, but he thought it worthwhile compared to another eclipse chaser who flew to Gansu province in Northwest China where rainy weather failed her.
Those not lucky enough to have clear weather may turn to their laptops or TVs as many institutions, including the Chinese Academy of Sciences and China Central Television Station (CCTV), will broadcast the eclipse live, said Zhang Mei, a researcher from the National Astronomical Observatory who will be a guest expert for CCTV's broadcast.
"Theoretically the closer the place to the central moving path of the moon's umbra and the further it is to the east, the better and longer it can offer one to experience the 'totality'," Zhang said.
For those who are lucky enough to witness the eclipse, it is advisable not to look directly at the sun with the naked eye or through a telescope. Normal sunglasses will not work, either.
It's safe to project the sun's image through a pinhole or a telescope onto a piece of white paper or cardboard, Zhang said.
Related readings:


 Eclipse shines on tourism


 Total solar eclipse to visit China on July 22


 Chinese teenagers guide world fans on solar eclipse


 Astronomers gear up for upcoming total solar eclipse
Another easy and cheap alternative is to look through several layers of black photographic film.
"You might reduce the layers as it grows darker and by the moment the total eclipse occurs, it is actually safe for you to look toward the sun with your naked eyes," Zhang said.
A solar eclipse occurs when the moon passes between the Earth and sun, totally or partially blocking the Earth's view of the sun. The next total solar eclipse visible in China will fall on March 20, 2034.
The eclipse next Wednesday will be the longest until the year 2131, and regions along China's Yangtze River are the best locations to view the natural wonder.